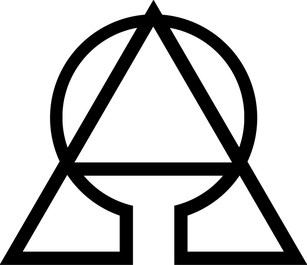 APERTΩARTS
---
ApertΩArts is an international, interdisciplinary curatorial platform. Often bringing forth exchanges between art, history and science, ApertΩArts offers spatial and sensory conditions for embodied experiences to invigorate public discourse and inspire social change.
SELECTED PROJECTS
RHYTHM AT HOME
RHYTHM AT HOME 2022
10 Sept - 02 Oct 2022
Leipzig, Germany
A group exhibition AT HOME
By Lavínia Freitas with the artists
With a screening of Rhythmus 21 (1921) by German avant-garde artist Hans Richter
Preview with all artists
Saturday, September 10, 2 - 6 pm
Music by Anaïs Goupy & Trevor Kiernander from 6 - 10 pmCoffee: Sunday, September 11, 2 - 6 pm, Tour at 3:30 pm
Coffee: Sunday, September 18, 2 - 5 pm, Tour 3:30 pm
Coffee Morning: Friday, September 30, 9:30 am - 12 noon, Tour 10am
and by appointment until October 2.RSVP to all Events /Appointments: rsvp @ apertoarts.comPhotos by dotgain.info
Design by Trevor Kiernander Photo ©ApertoArts
ApertoArts is pleased to announce Rhythm at Home, an exhibition curated in collaboration with an outstanding group of contemporary artists hailing from Canada, France, Germany, and the USA. Taking place at the curator's private residence in Leipzig, the exhibition explores an array of life Rhythms in the intimate space of the home.The selected works of Andrea Garcia Vasquez, Anaïs Goupy, Trevor Kiernander, Linda Marwan and Kristina Rothe touch on themes such as self-portrayal, Anthropocene, the influence and impact of music, sound and technology, and sensual and spiritual connection between life forms and machine. They cover a range of mediums, from the innovative handling of paper all the way to artificial neural networks.The exhibition is inspired by one of the first abstract movies, Rhythmus 21 (1922), by German avant-garde artist Hans Richter: animated by hand, his silent movie questions if one can visualize rhythm or see music. By amplifying the experience of the private space, Rhythms at Home is the dais for exploration of the invisible, softened and clamorous forces acting in our Quotidien.At the scheduled exhibition events, in true home style, the host or the artists will offer, prepare or perform a personal recipe.This group presentation is the first in a series of exhibitions entitled At Home.ApertΩArts and Trevor Kiernander gratefully acknowledge the support of Concordia University and CUPFA.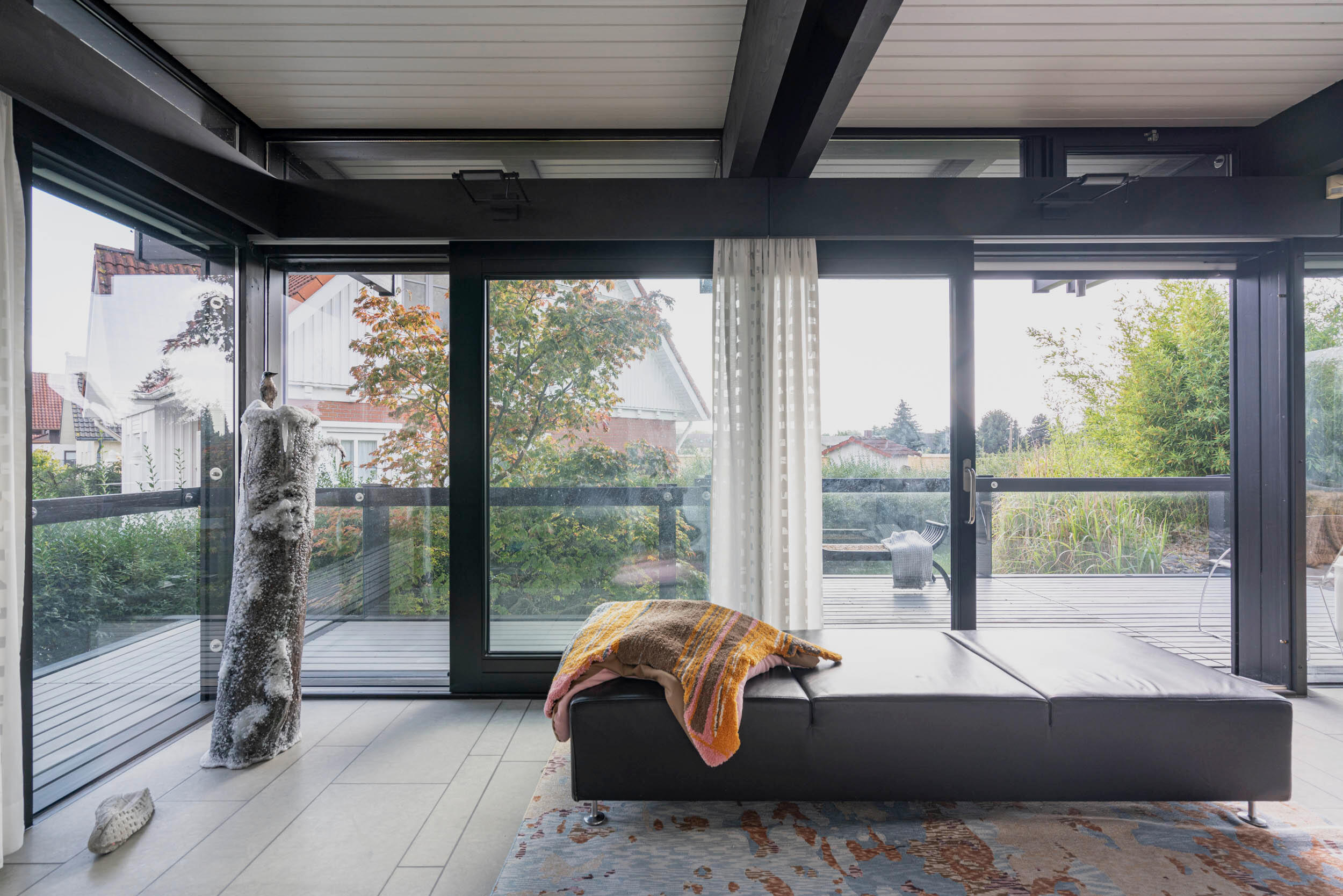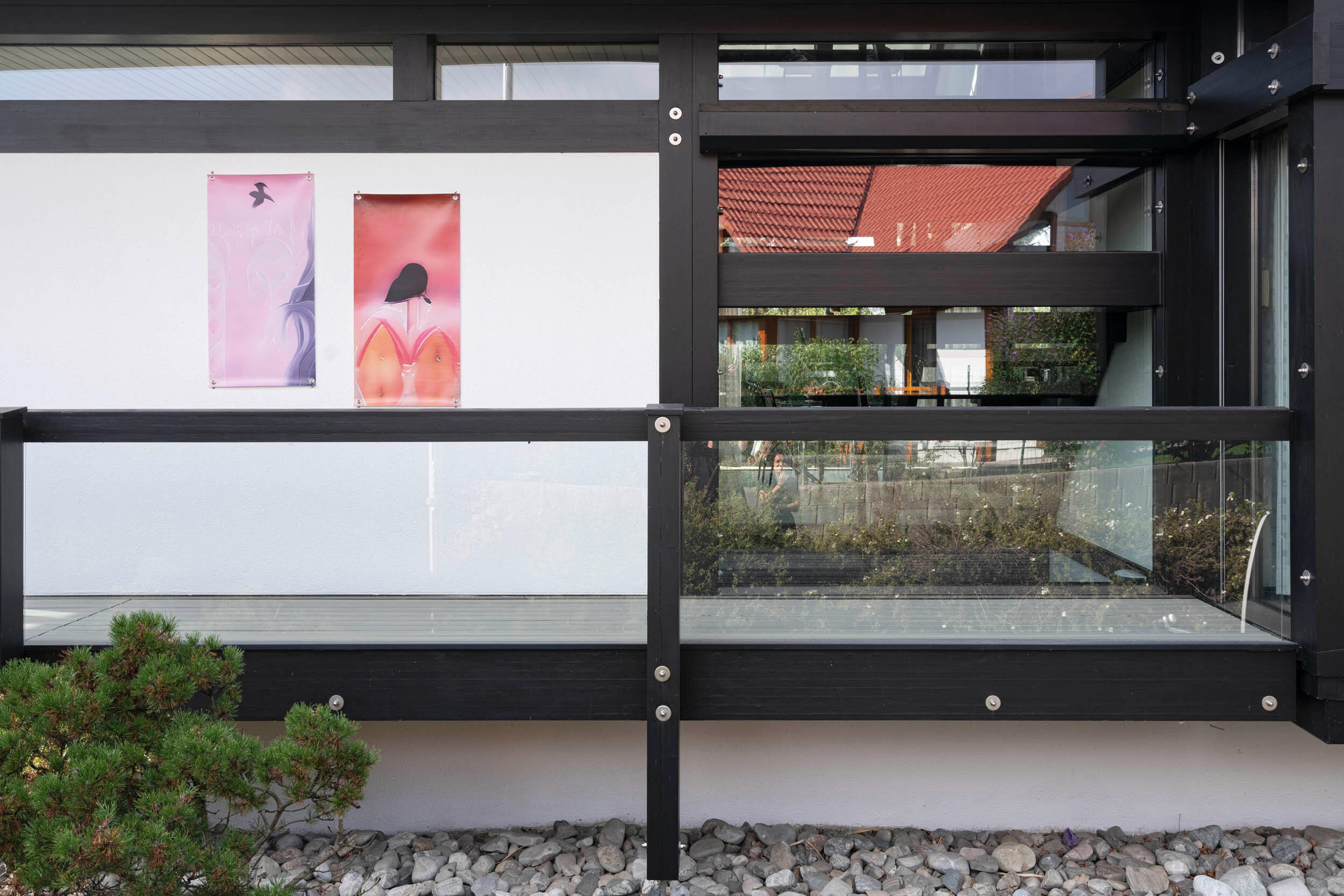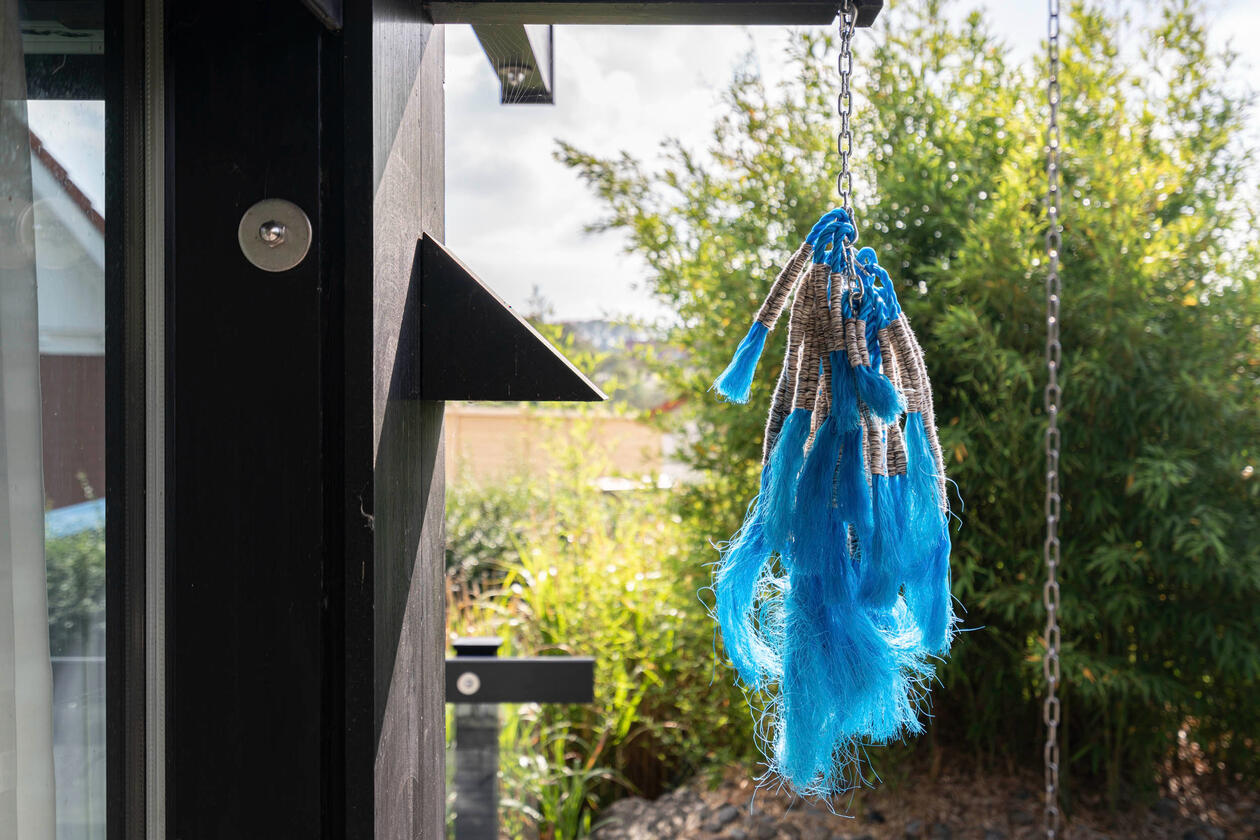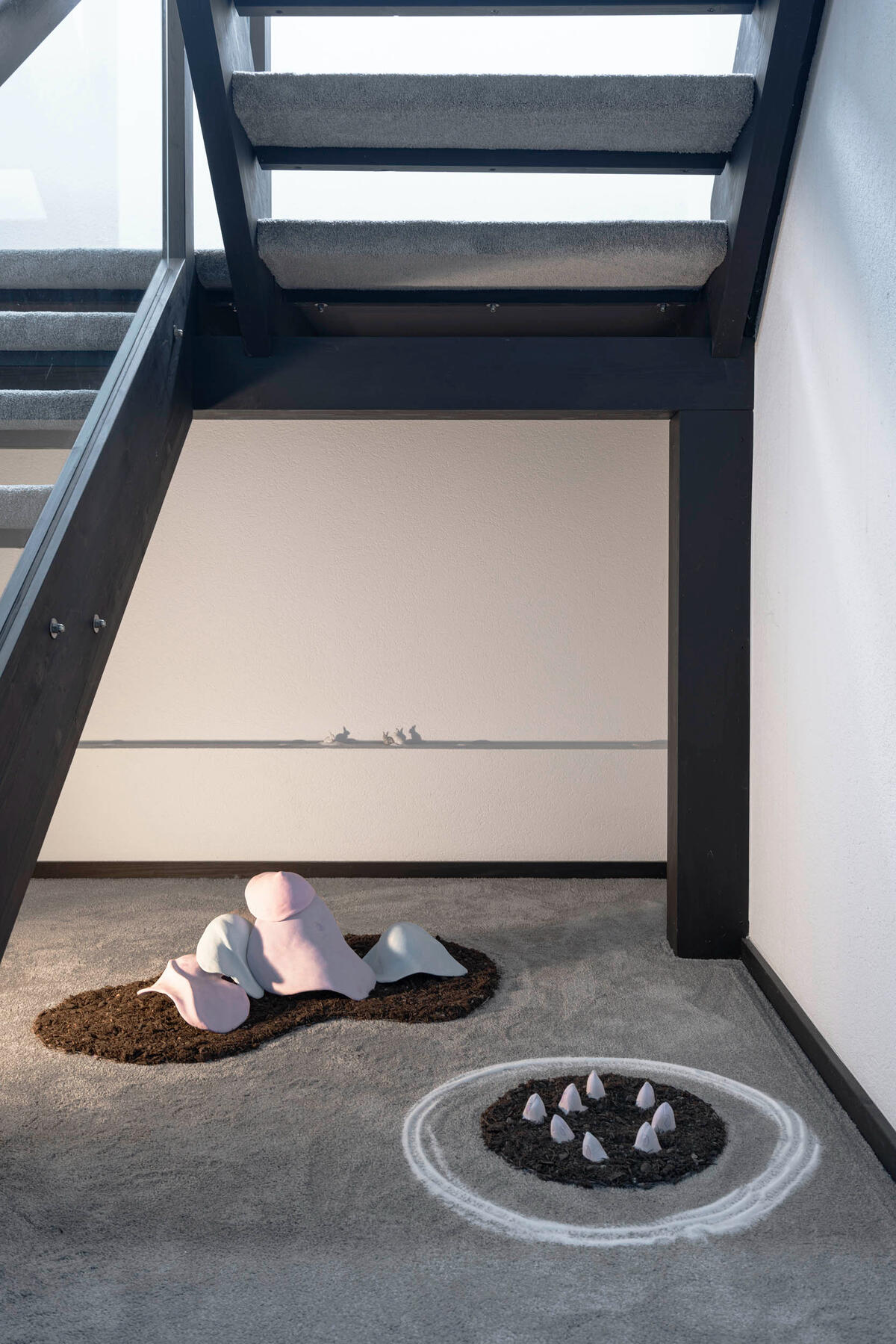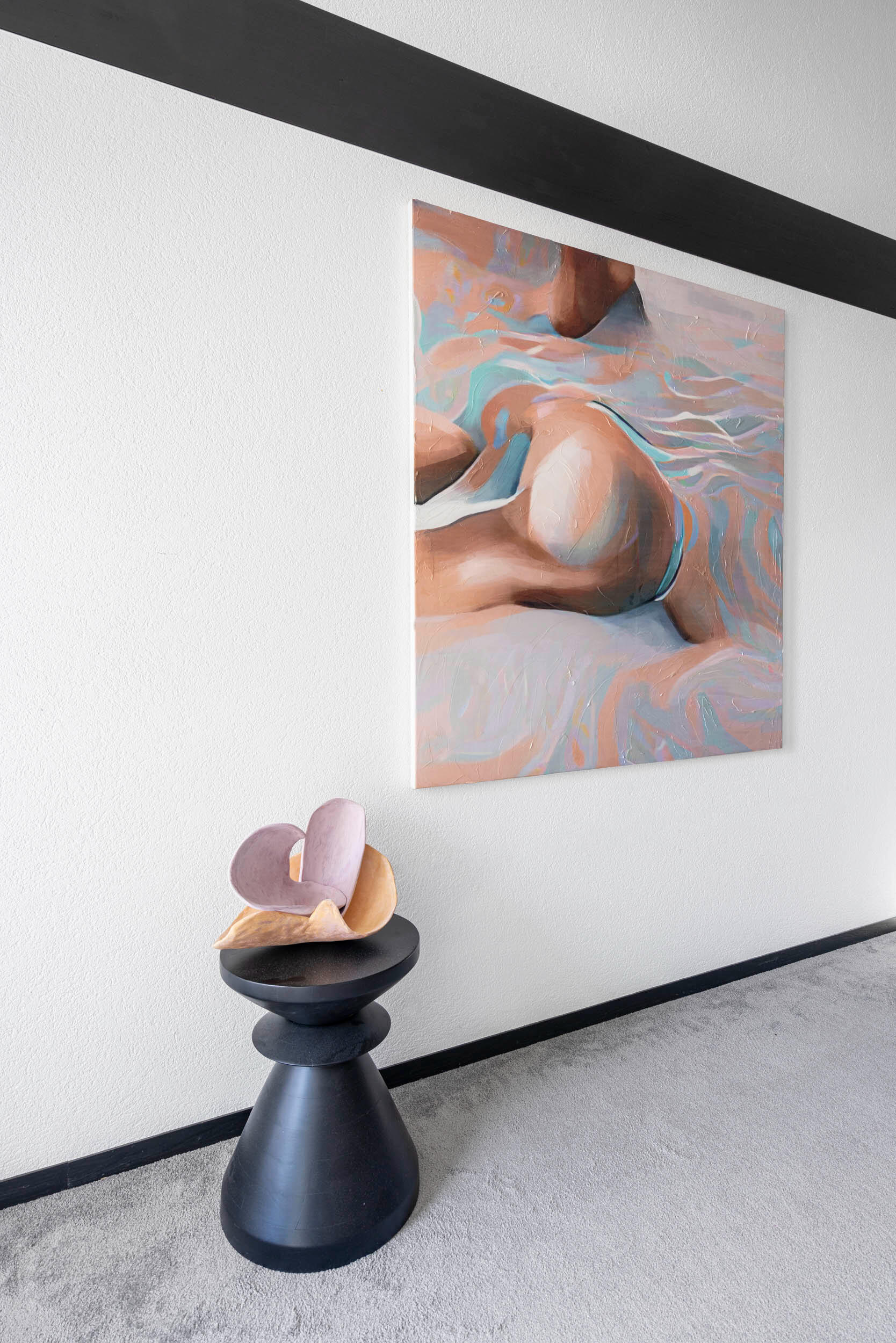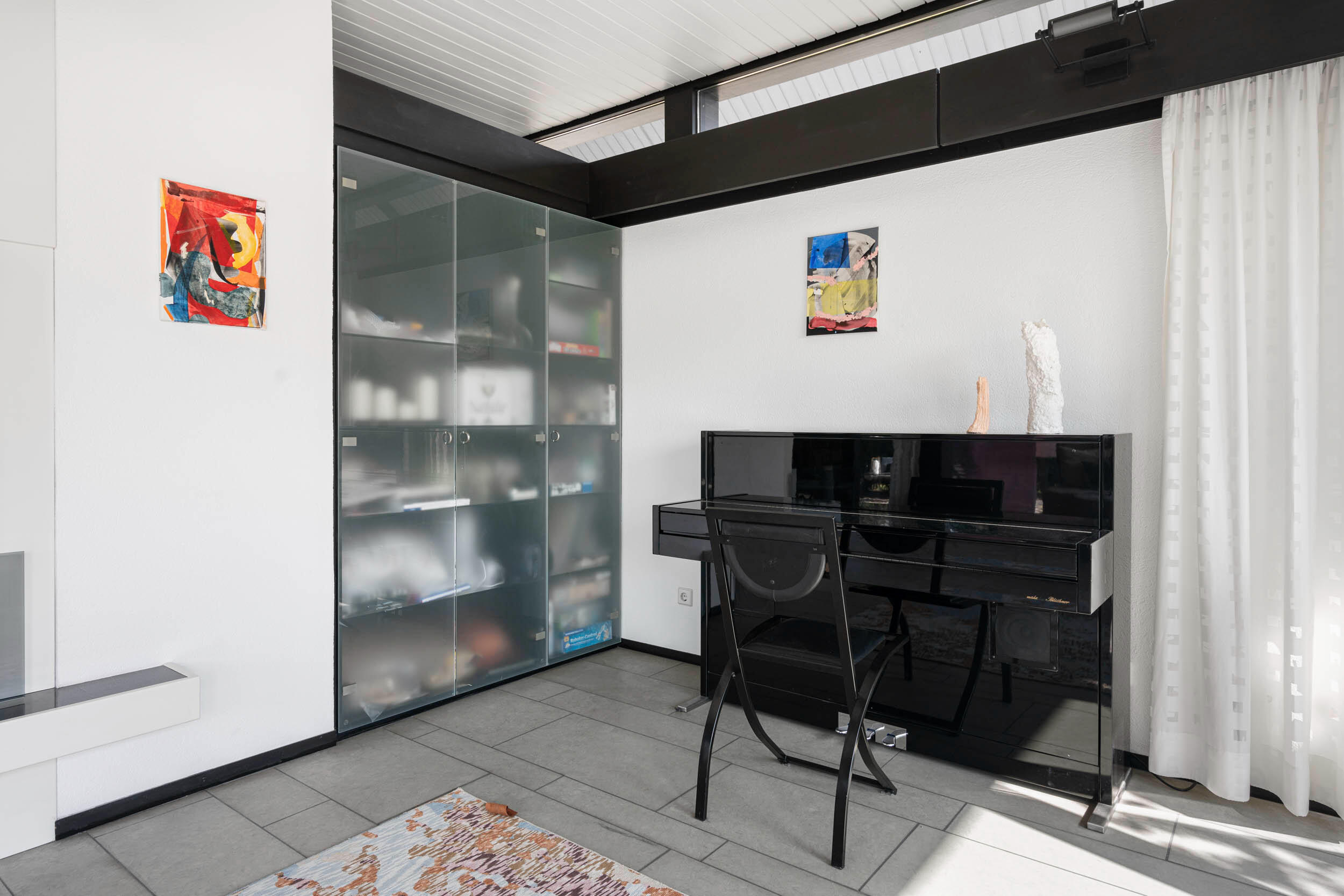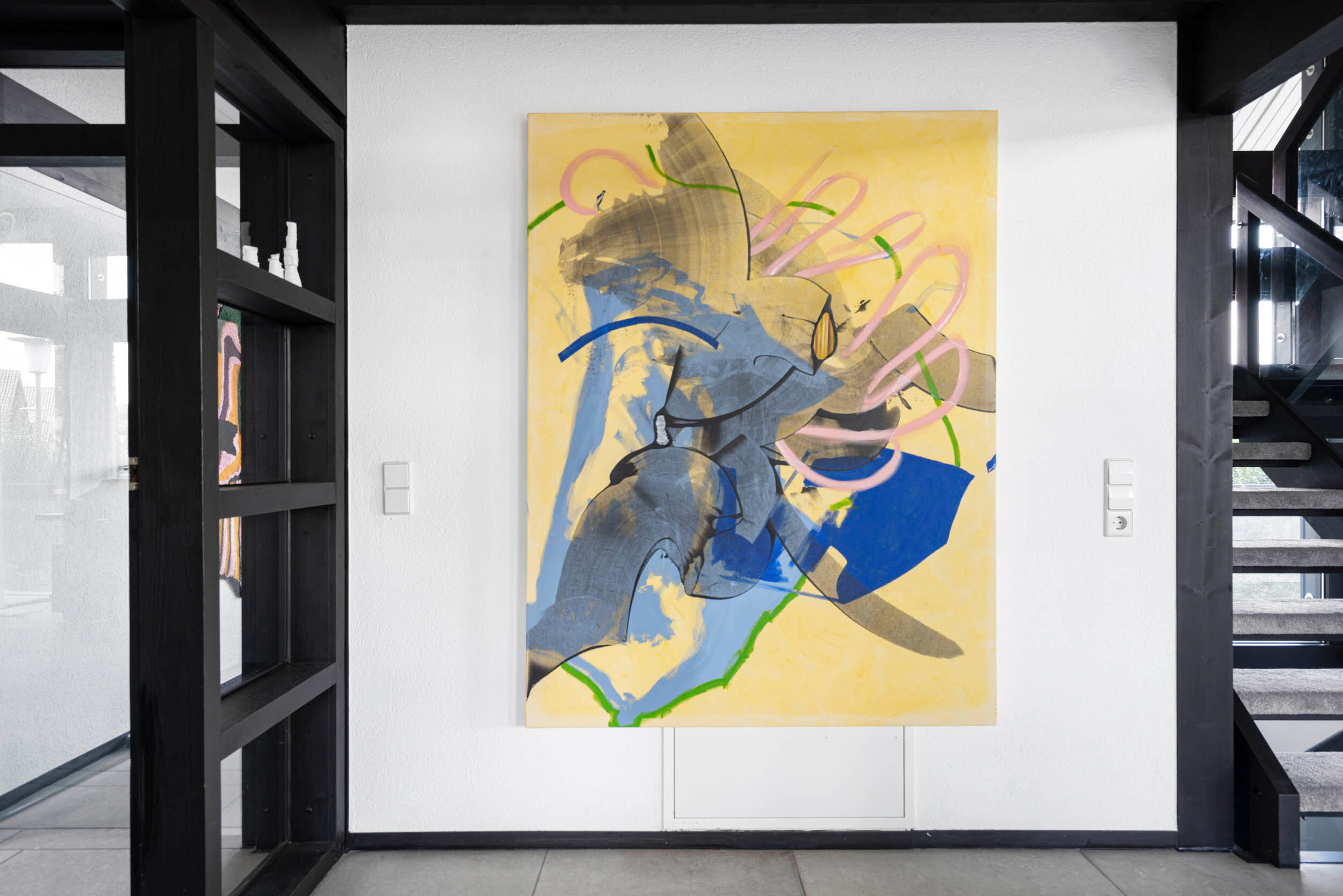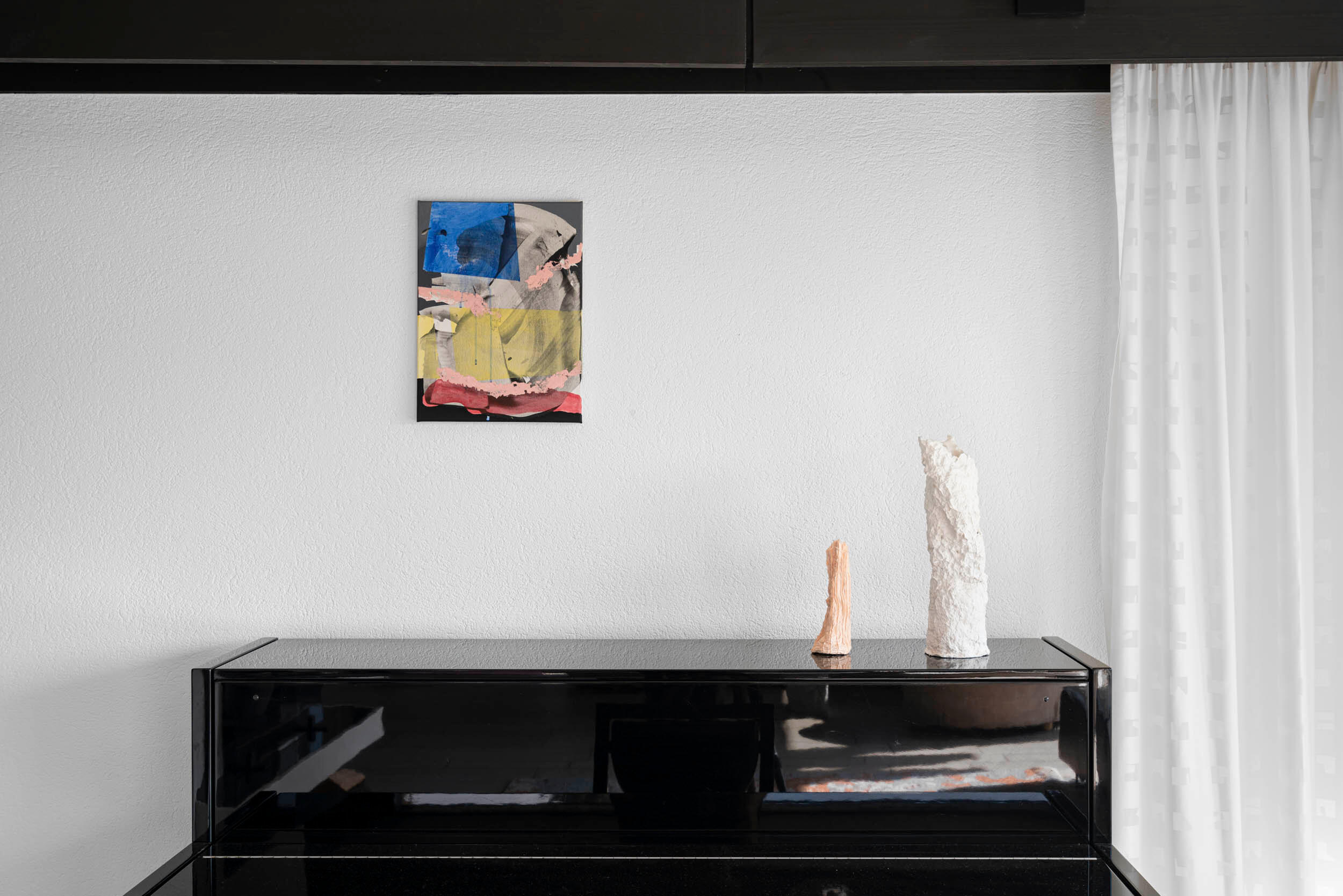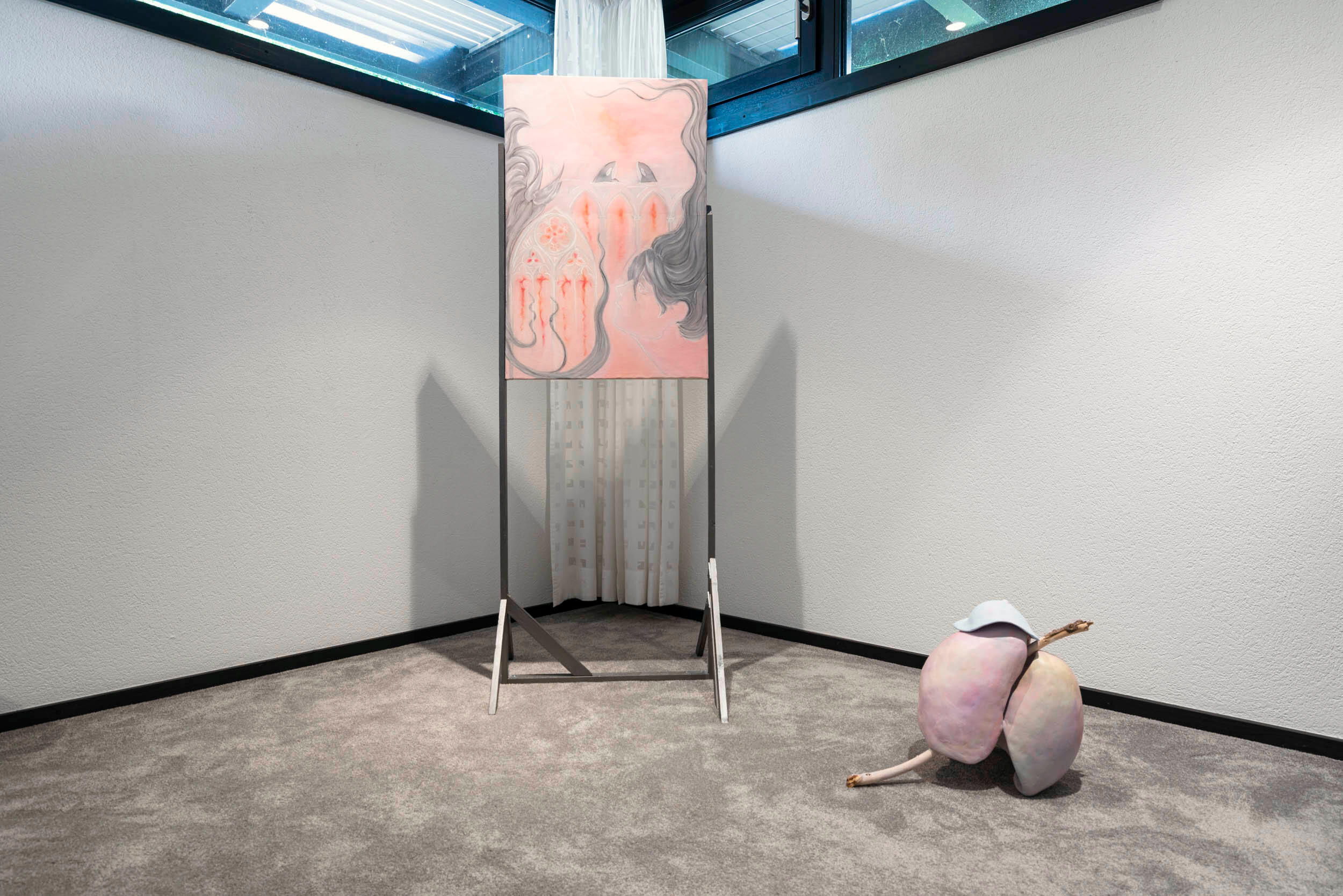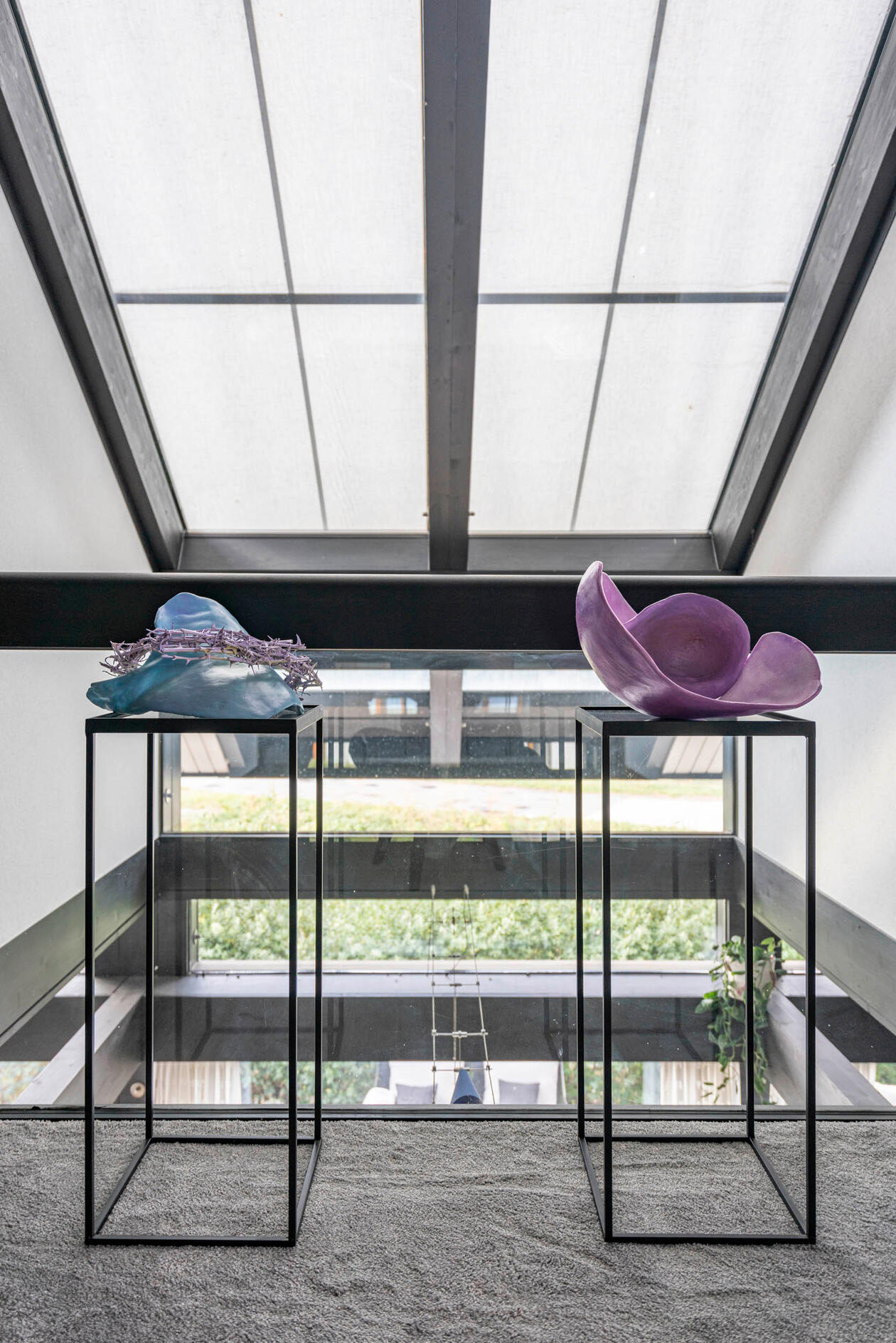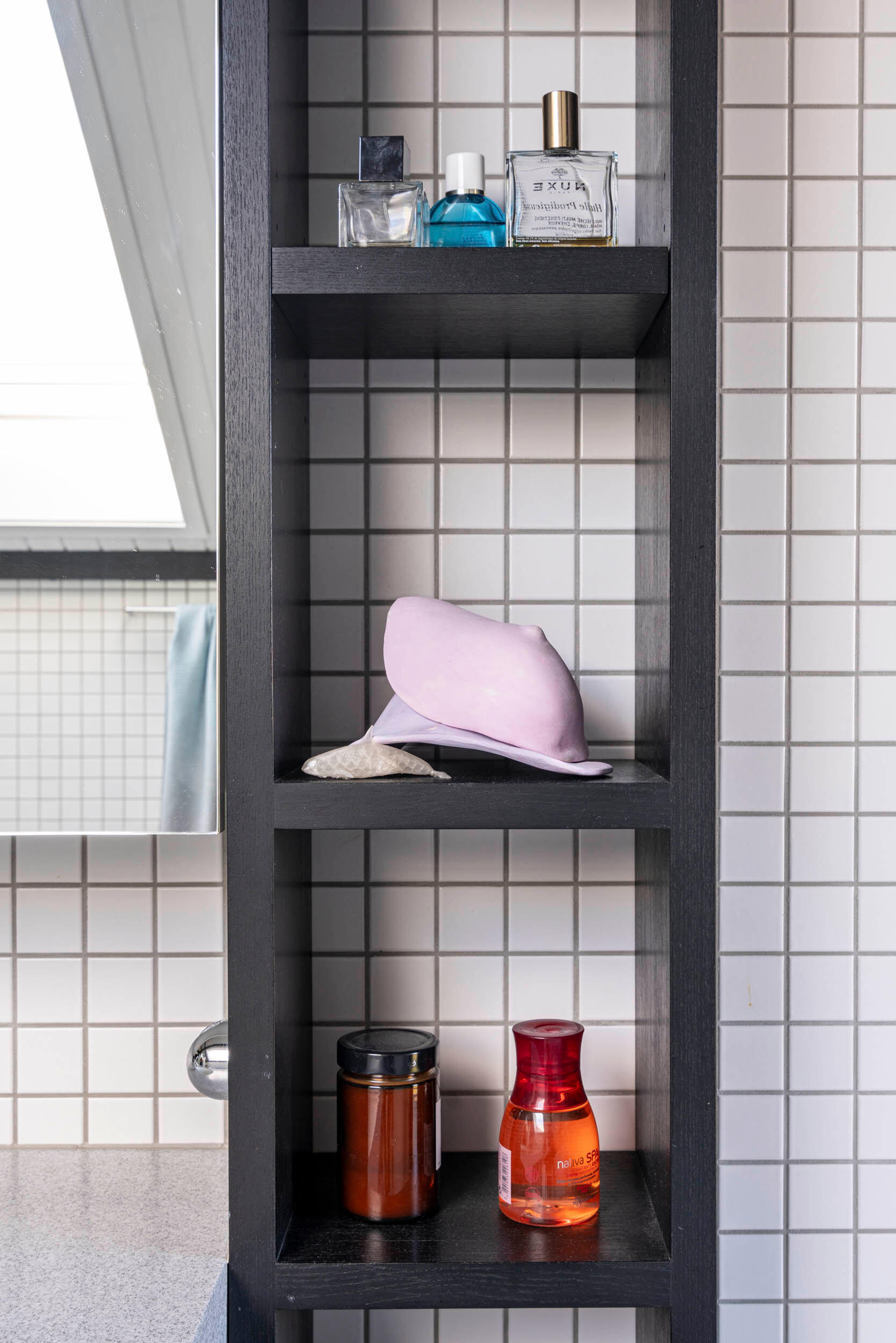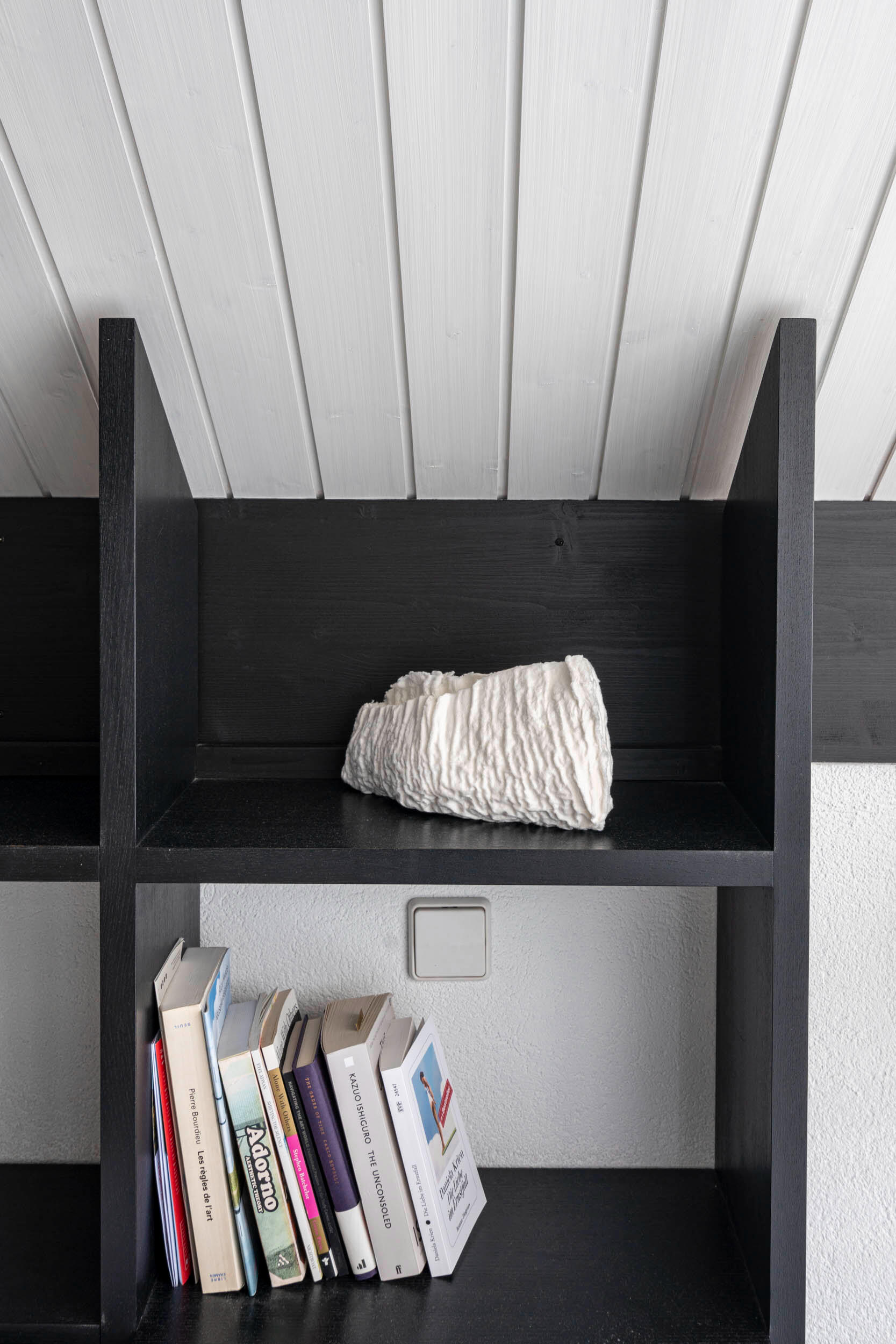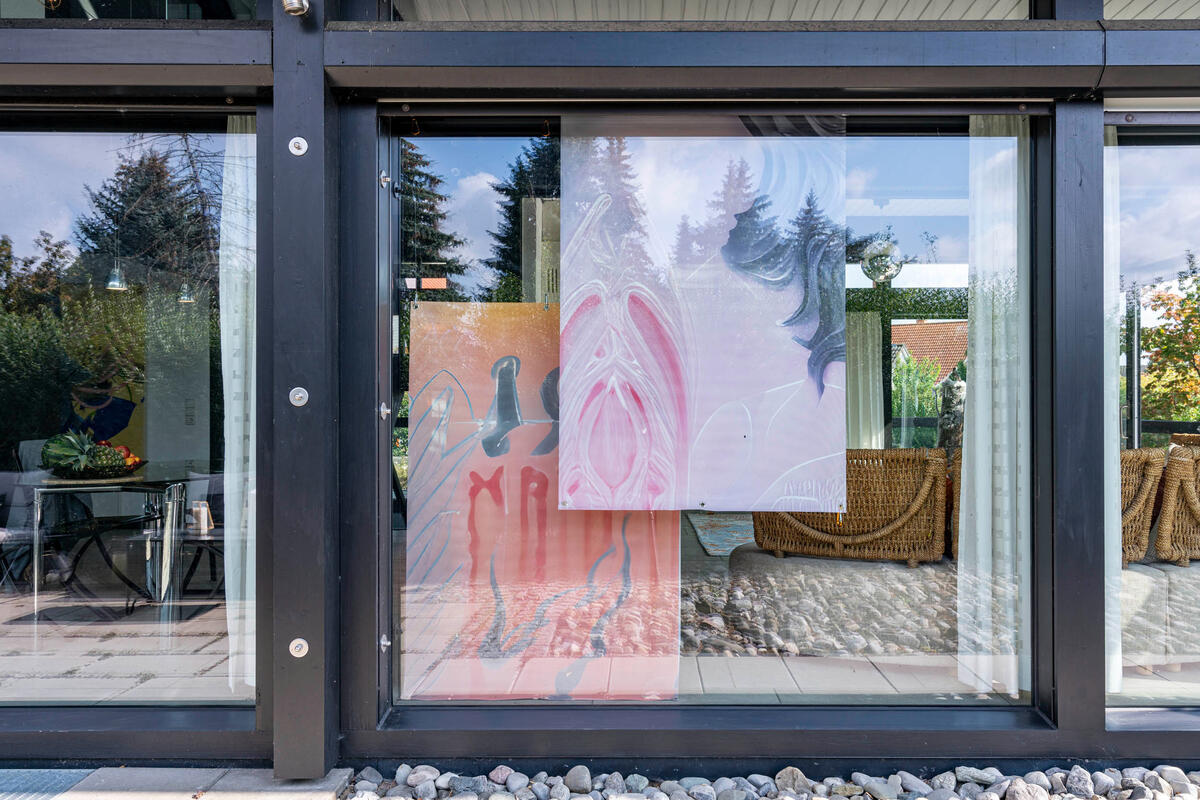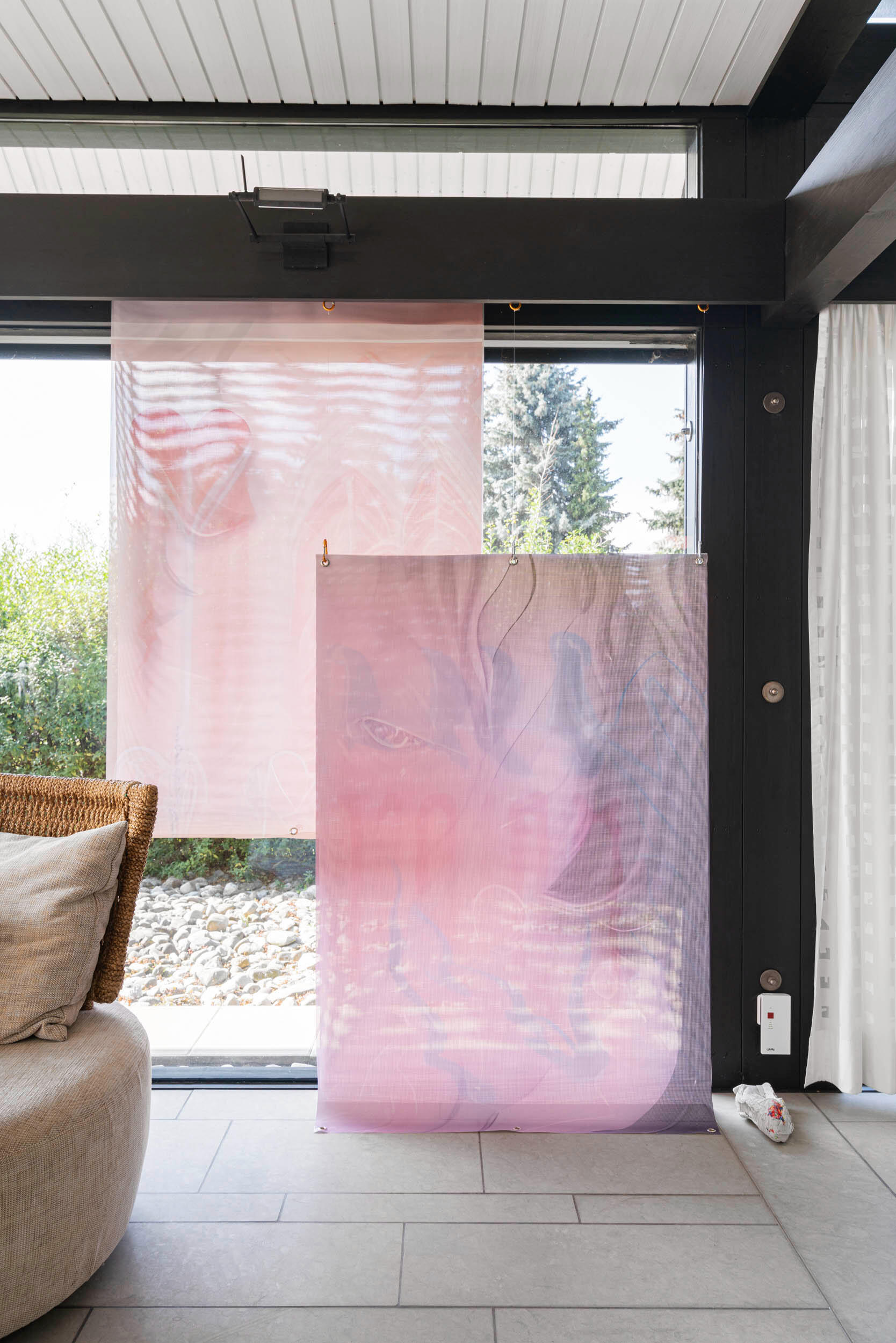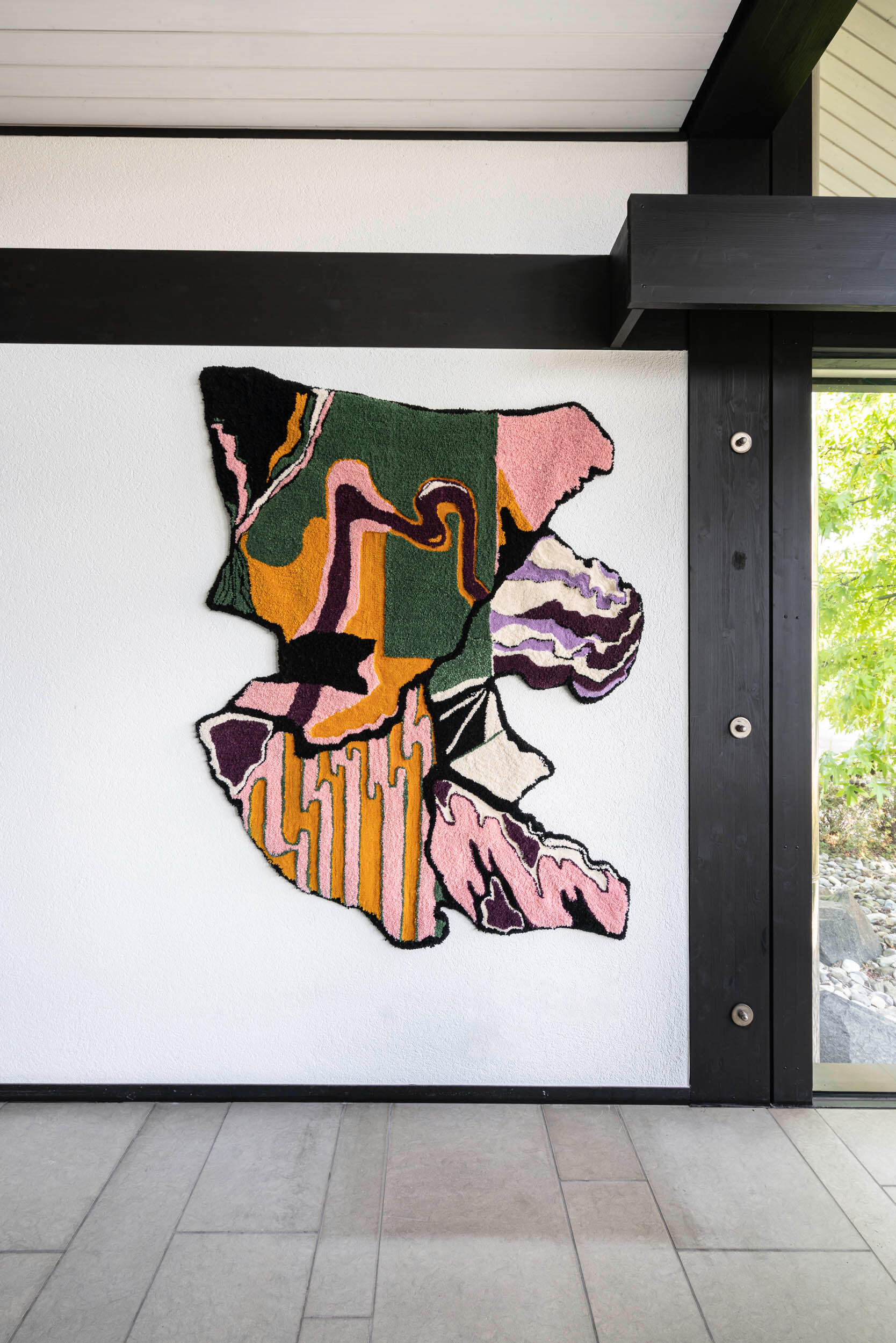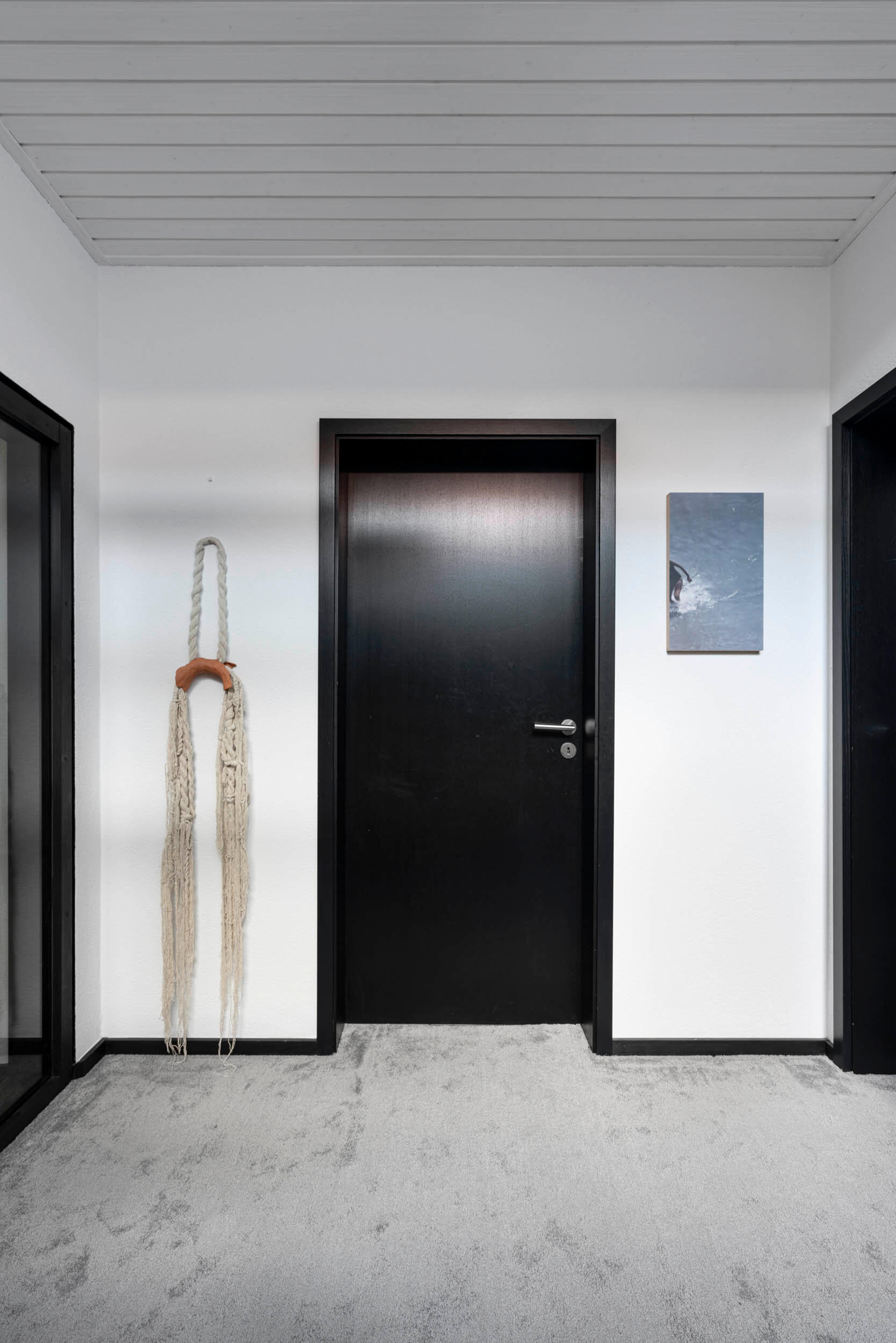 STOYAN DECHEV - EVENT HORIZON
Stoyan Dechev - Event Horizon
Frieze Sculpture 2021 - English Gardens in The Regent's Park, LondonPhoto © Frieze
Frieze Sculpture 2021
14 Sept - 31 Oct 2021
London, United Kingdom
Frieze's Sculpture Park in Regent's Park
ART. NO BORDERS. PLOVDIV.
01-30 Sept 2019
Plovdiv, Bulgaria.
Week of Contemporary Art in Plovdiv, European Capital of Culture, Bulgaria.
Anca Poterasu - Leipzig Space
18 May – 22 Jun 2019
Leipzig, Germany
Solo Exhibition
With contribution from the Astronomer Mirela Napetova .
PRESS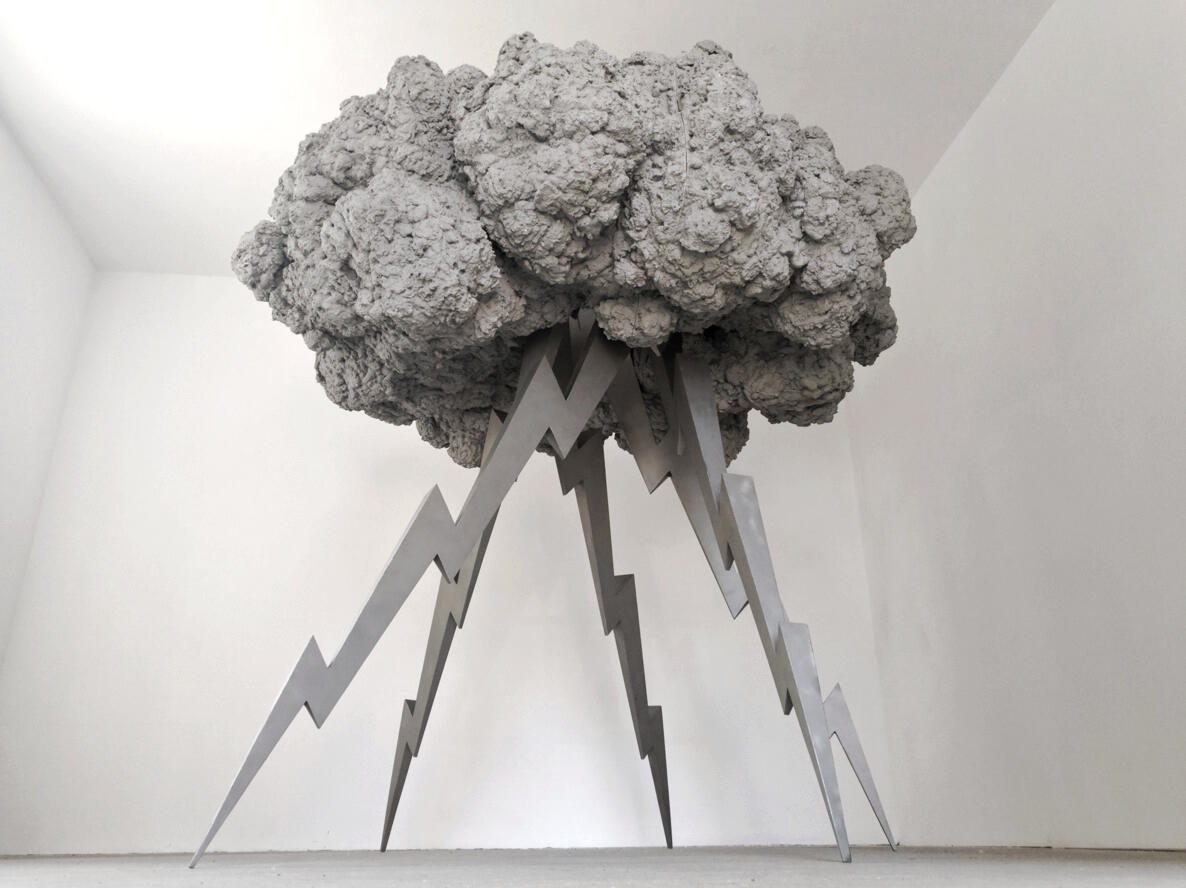 Event Horizon, Stoyan Dechev, Anca Poterasu, Leipzig 2019. Photo © Stoyan Dechev
Stoyan Dechev's Event Horizon (2019) explores the inherent ambiguities and metaphorical quality of clouds, their imagery repetition since antiquity and their correspondence to other natural phenomena. Drawing parallels with science and belief systems, the sculpture unveils the relationship between the visible and the immaterial around us, providing us with a chance to consider the limits of our knowledge and probe the origin of myths' existence.Set in an enclosed room, 'Event Horizon' is a towering cloud in a solid state which seemingly hovers above five thinly spiked lightning bolts. Its generous scale combined with our inability to see the work as a whole renders the space and the viewer a sense of littleness or totality, both senses of wonder.Throughout history, the ever-evolving natural phenomenon of clouds formation, a condensation of millions of water droplets formed by rising warm air, serves as a backdrop for poetical inspiration, contemplation and our scientific exploration. It was in Venice, from where I am writing, that Tintoretto, Canaletto and Guardi started to embrace clouds as solid forms, either involving biblical or mythical figures in heavenly settings or interweaving with earthly scenes. In many polytheistic and monotheistic religions, the highest of Gods stands on clouds tenaciously holding a thunderbolt, separating them from all the other deities. Clouds were and still are for many individuals the point of contact between earth and heaven, between matter and spirit.Mimicking nature where there is never a finalised state of cloud configurations, an ever-changing "system of systems of codes" accompanies human evolution and its countless associations with clouds.The Big Data advent has empowered the metaphor of clouds to unfold toward even bigger ambits. New 'clouds' of 'information' consisting of digital data have become the memory or, one may say, the brain of today's contemporary society. They host and connect seemingly our knowledge and lives in ephemeral, apparently boundless and perpetual spaces.
Remarkably, these newest clouds associations maintain their close affinity to human processes sustaining their influential historical correlation with our quotidian pursuits.The relatively light sculpture, cast in aluminium and polished inox, blends analysis of spatial and mathematical concepts including manipulation of complex forms of mass with the work's contemplative attributes. Whether intended or not, the sculpture resembles a charged brain - the assumed location of our internal map of reality. The lightning bolts have numerous connotations, from the thunder of the gods to neurons "firing" in a brain or possibly even some of the tensions and dangers of today's interconnected world, where technology has enabled us to wipe out our own existence in an "ultimate flash".As I marvel at the totality of 'Event Horizon' I wonder, among other things, about our personal autonomy. Could the latest and ever more omnipresent cloud be the first step towards humanity's own 'point-of-no-return', the boundary at which the gravitational pull becomes so great making escaping it impossible?Lavínia Diniz FreitasProject realized by the ARAC association (Romanian Contemporary Art Association) in collaboration with Anca Poterasu Gallery. It is supported by the Romanian Cultural Institute and co-funded by the Administration of the National Cultural Fund (AFCN).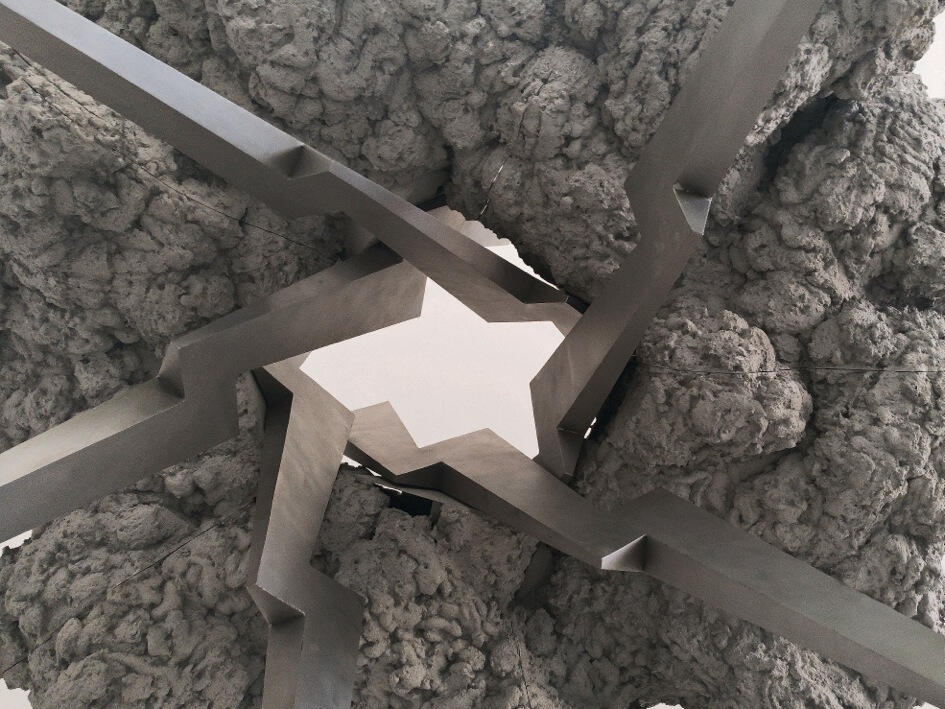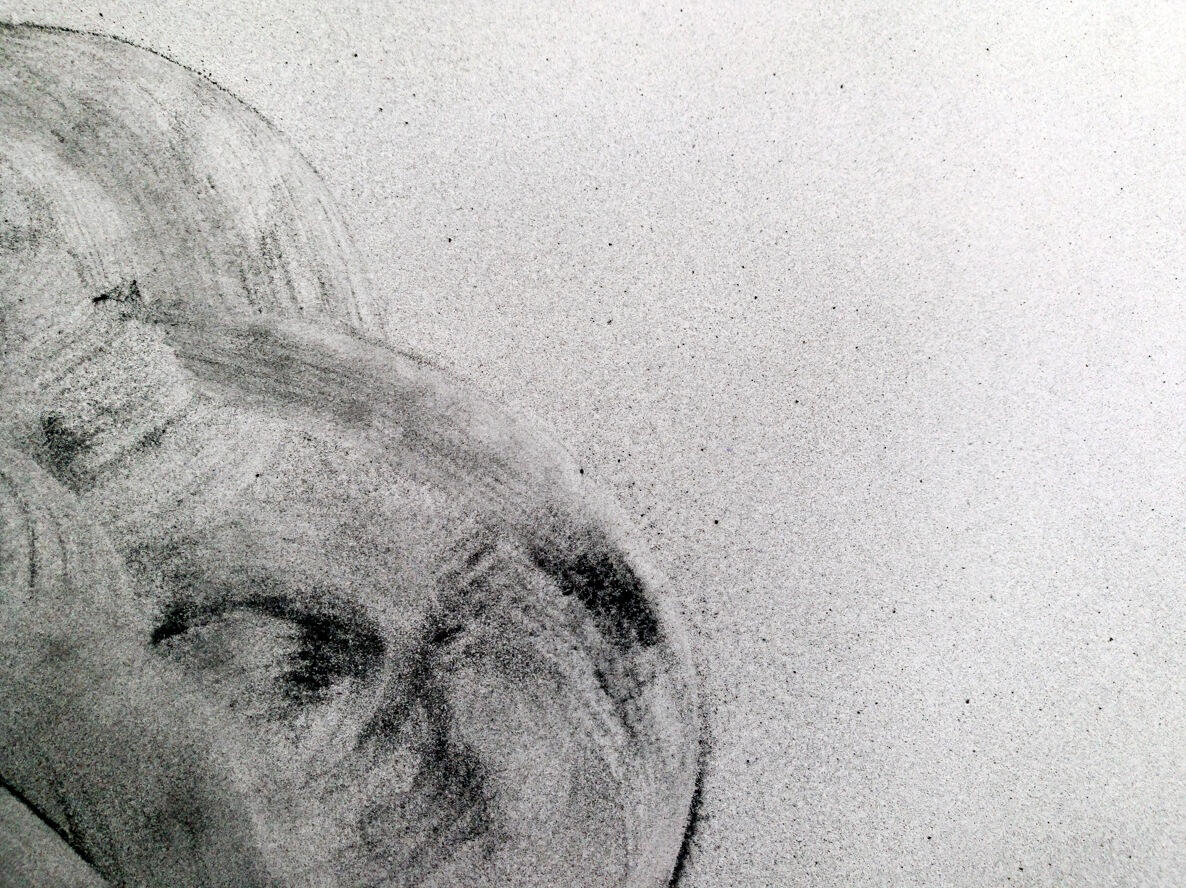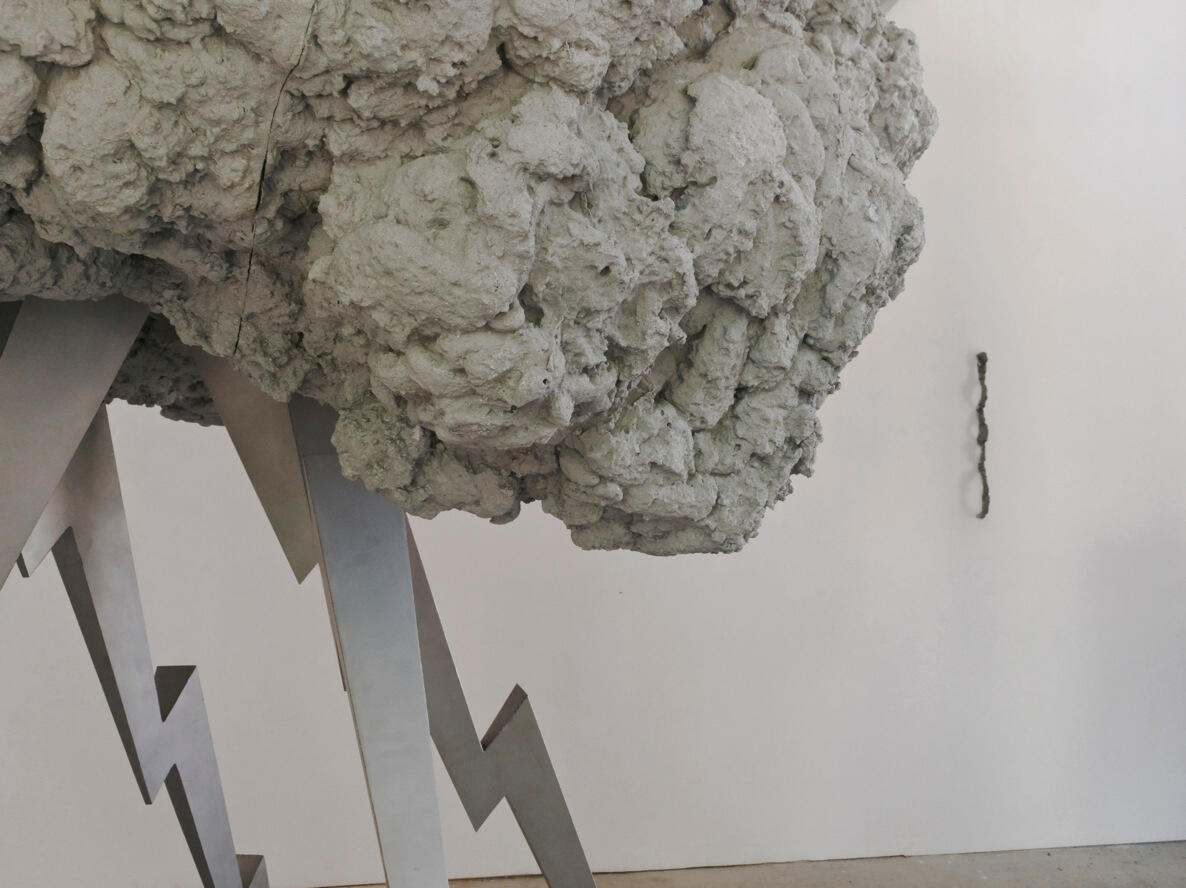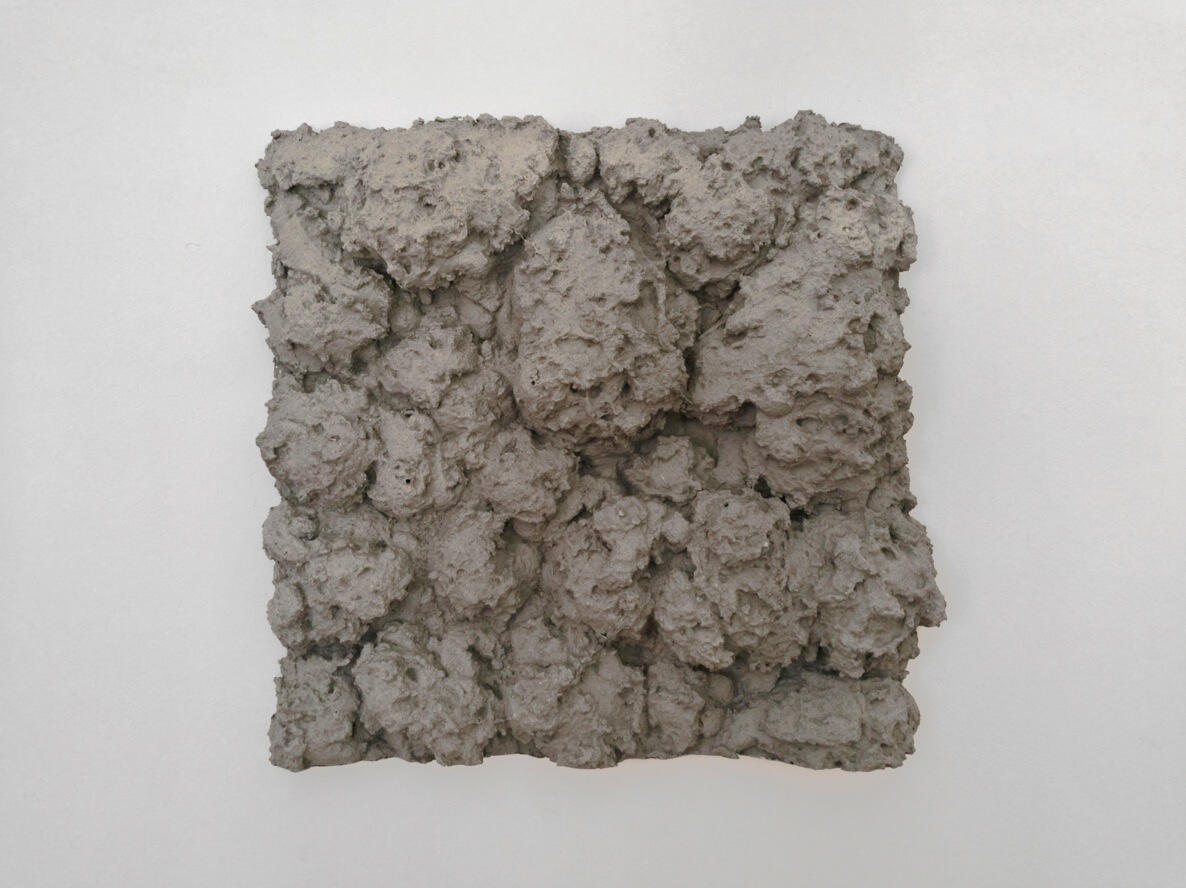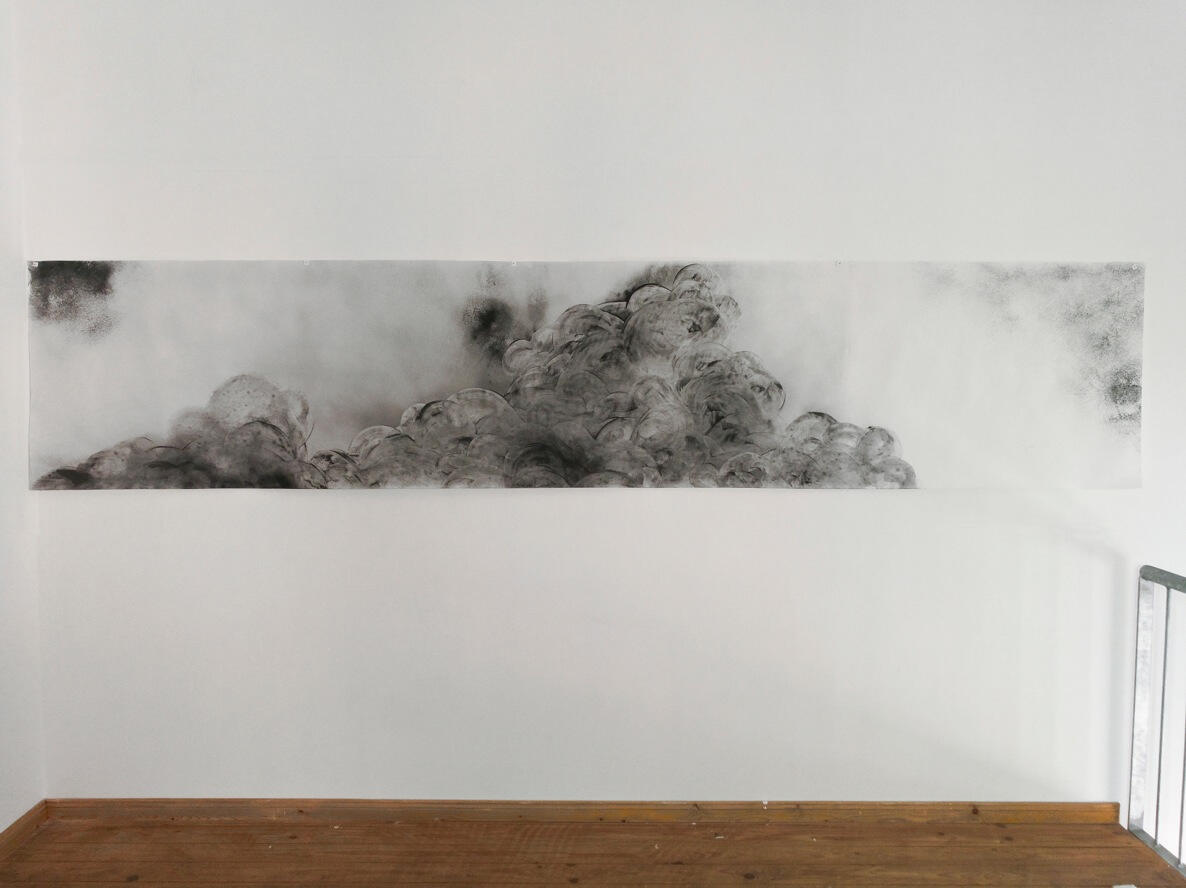 Event Horizon, Stoyan Dechev, Anca Poterasu, Leipzig 2019. Photo © Stoyan Dechev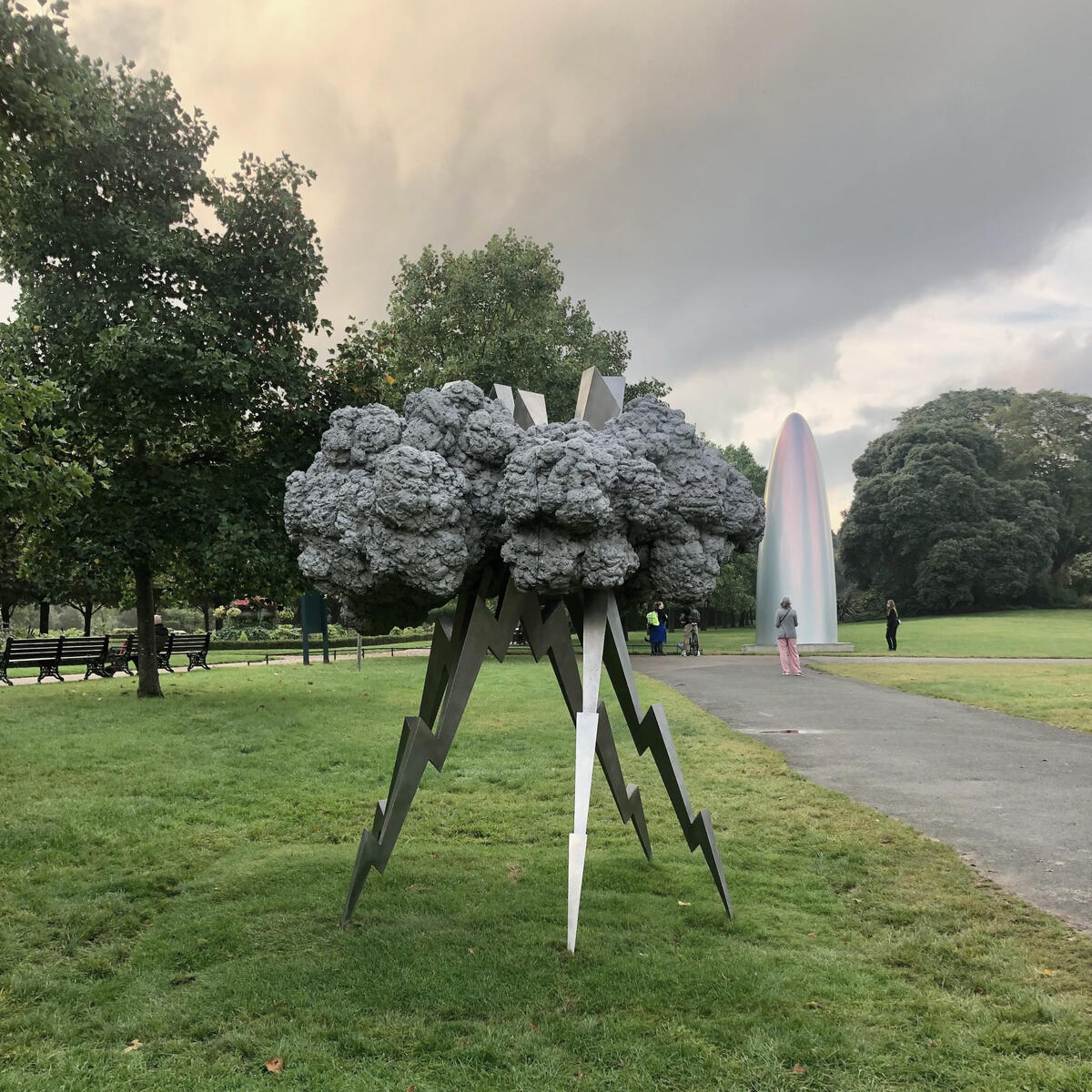 Stoyan Dechev - Event Horizon
Frieze Sculpture 2021 - English Gardens in The Regent's Park, LondonPhoto © Lavinia Freitas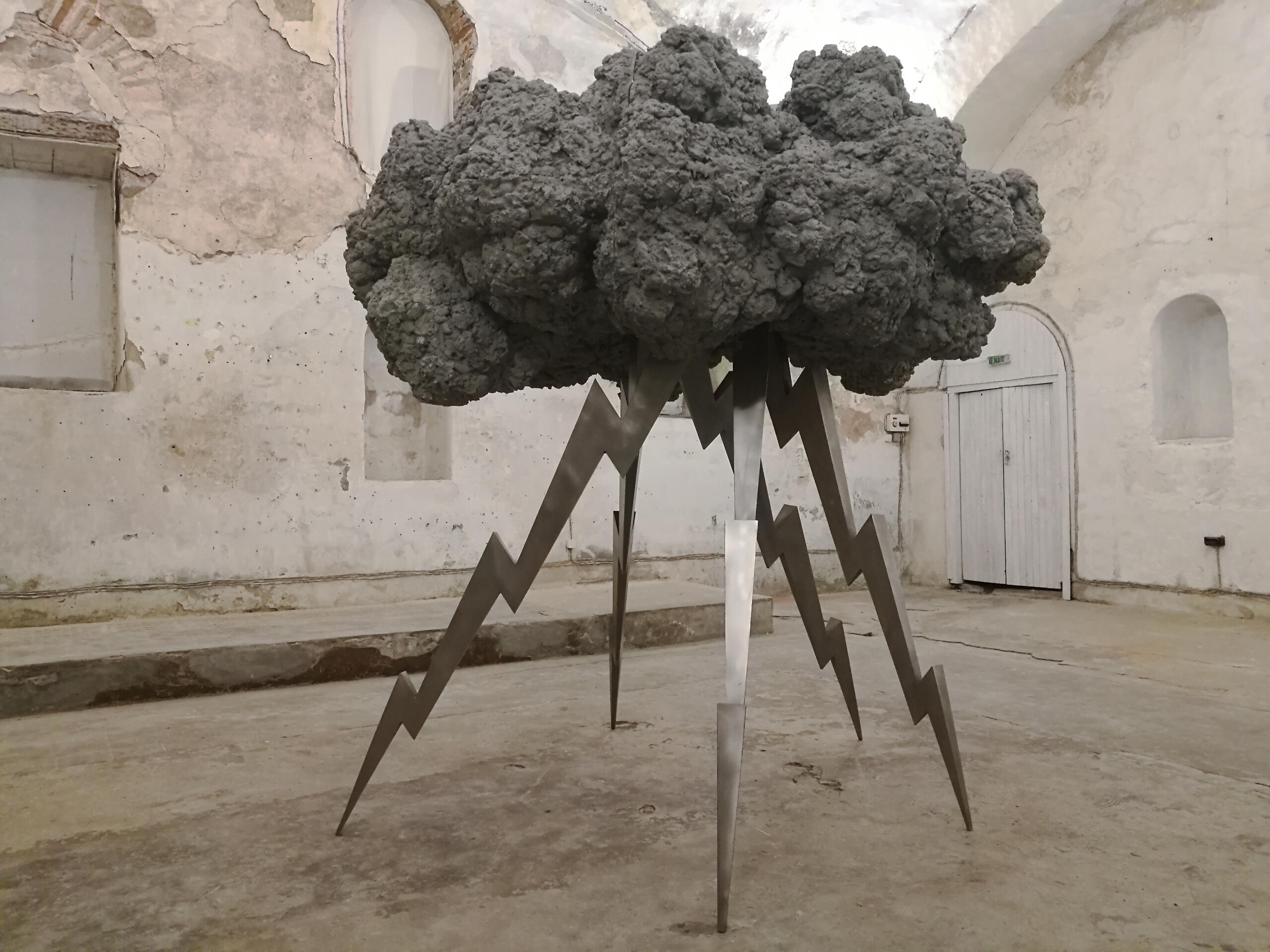 Event Horizon, Stoyan Dechev, in situ ART. NO BORDERS. PLOVDIV. 2019, Plovdiv, Bulgaria - European Capital of Culture 2019. Courtesy Anca Poterasu and Artist
BEACON
A sculptural installation in the public realm by Karolina Halatek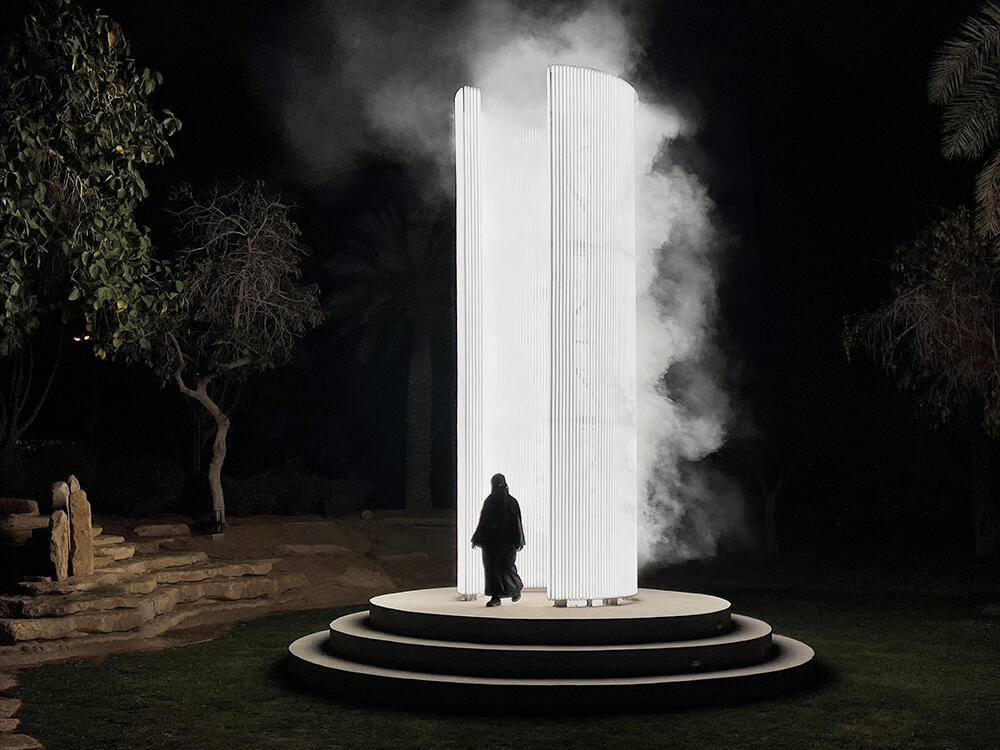 Beacon, in situ King Abdul Aziz Historical Centre, Riyadh, Saudi Arabia © Karolina Halatek
Under One Sky
Noor Riyadh
18 March 2021
Riyadh, Saudi Arabia
A commission for the Riyadh Art Project by the Royal Commission for Riyadh City

PRESS
Beacon is a new large-scale sculptural installation by Karolina Halatek in Riyadh, Saudi Arabia, which invites viewers to immerse themselves in a dazzling white light in the form of a pillar pointing towards the sky, connecting heaven and earth to evoke the sublime.The monumental sculpture acts as a beacon, yet, offers a small, intimate space when experienced from the inside. Its formal simplicity and the purity of its white light generate a mysterious and calming effect on those who approach it.Those who walk into Beacon will be embraced by an unexpected and extraordinarily bright light, which will immediately shift their perception, leaving the quotidien within seconds. The light pillar is a source of guidance and protection. Its white light encompasses all colours of the spectrum conjuring up to notions of completeness, fulfilment, redemption.Beacon is a commission by the 'Royal Commission for Riyadh City belonging to the Riyadh Art initiative, a city-wide strategy to transform public spaces, create a movement for artistic expression through community engagement, and accelerate the development of its cultural economy.The inaugural edition of Noor Riyadh unites many renowned names in light art, bringing to the city of Riyadh some of the biggest international and regional artists while providing a transformative platform to an expanding roster of emerging local artists. Among the 63 participating artists are Saudi artists Ahmed Mater, Lulwah Al Homoud, Ayman Zedani, Rashed AlShashai and Maha Malluh, and international artists Daniel Buren, Carsten Höller, Ilya & Emilia Kabakov, Yayoi Kusama and Dan Flavin.Beacon is co-produced by Omnikon and Balich Worldwide ShowsArtistic consultancy by ApertΩArts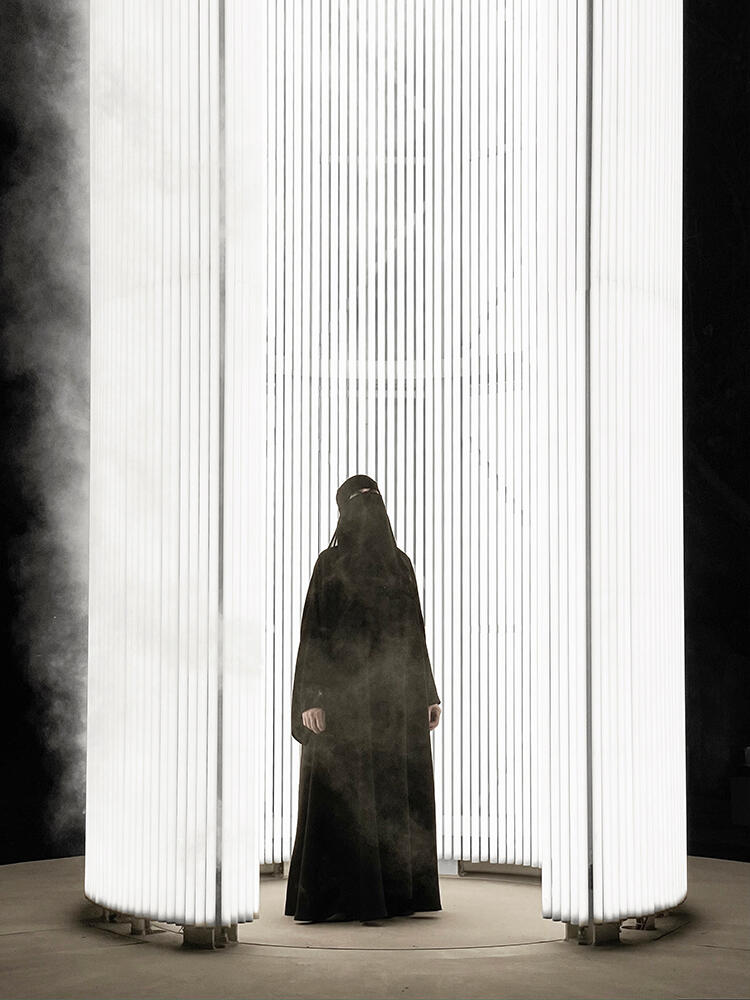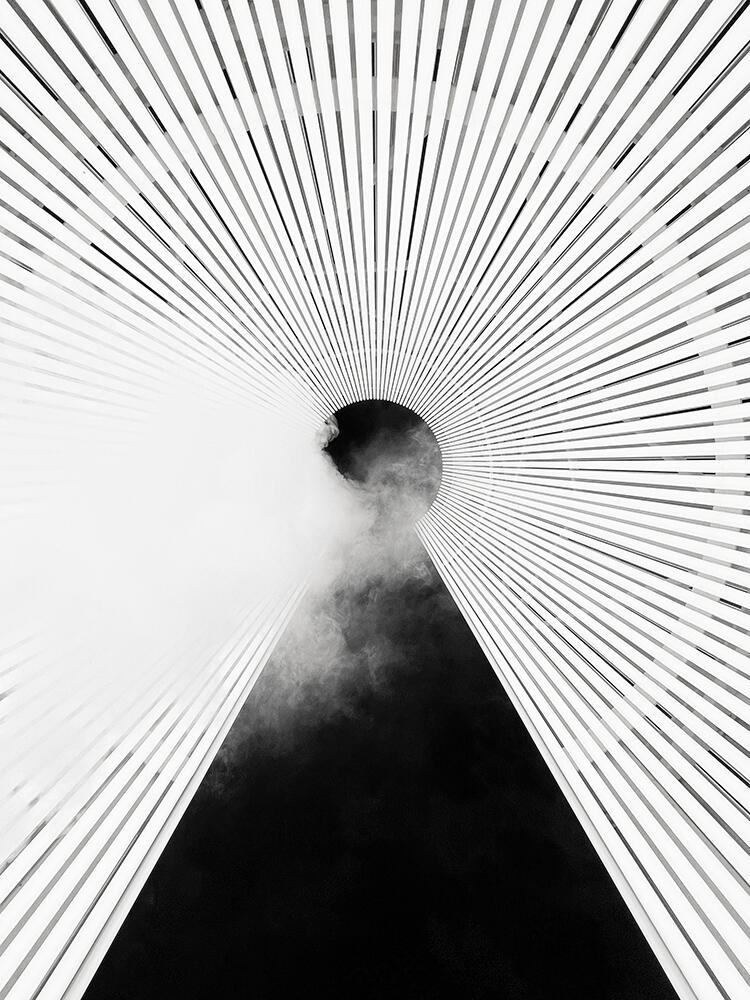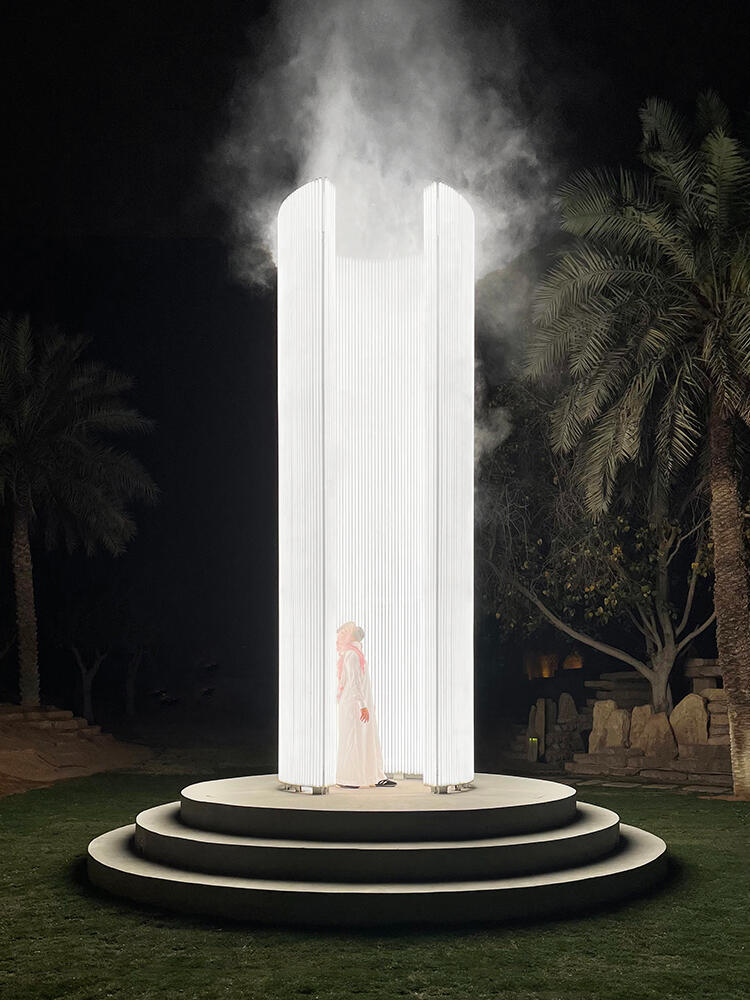 Beacon, in situ King Abdul Aziz Historical Centre Photos © Karolina Halatek
IN THE PLANET WHERE WE MET
An ongoing collaboration by
Ingrid Pumayalla and Mazen Khaddaj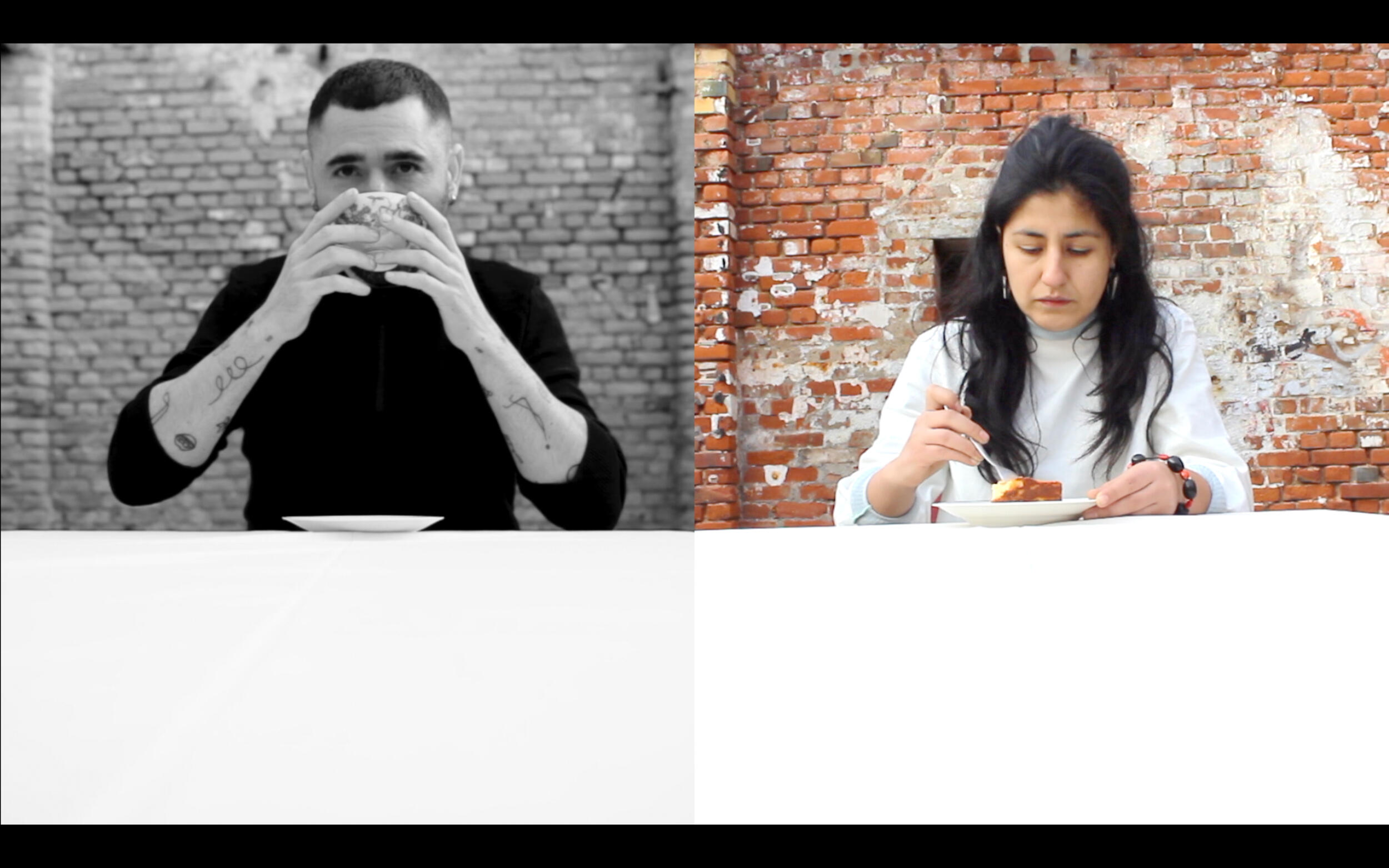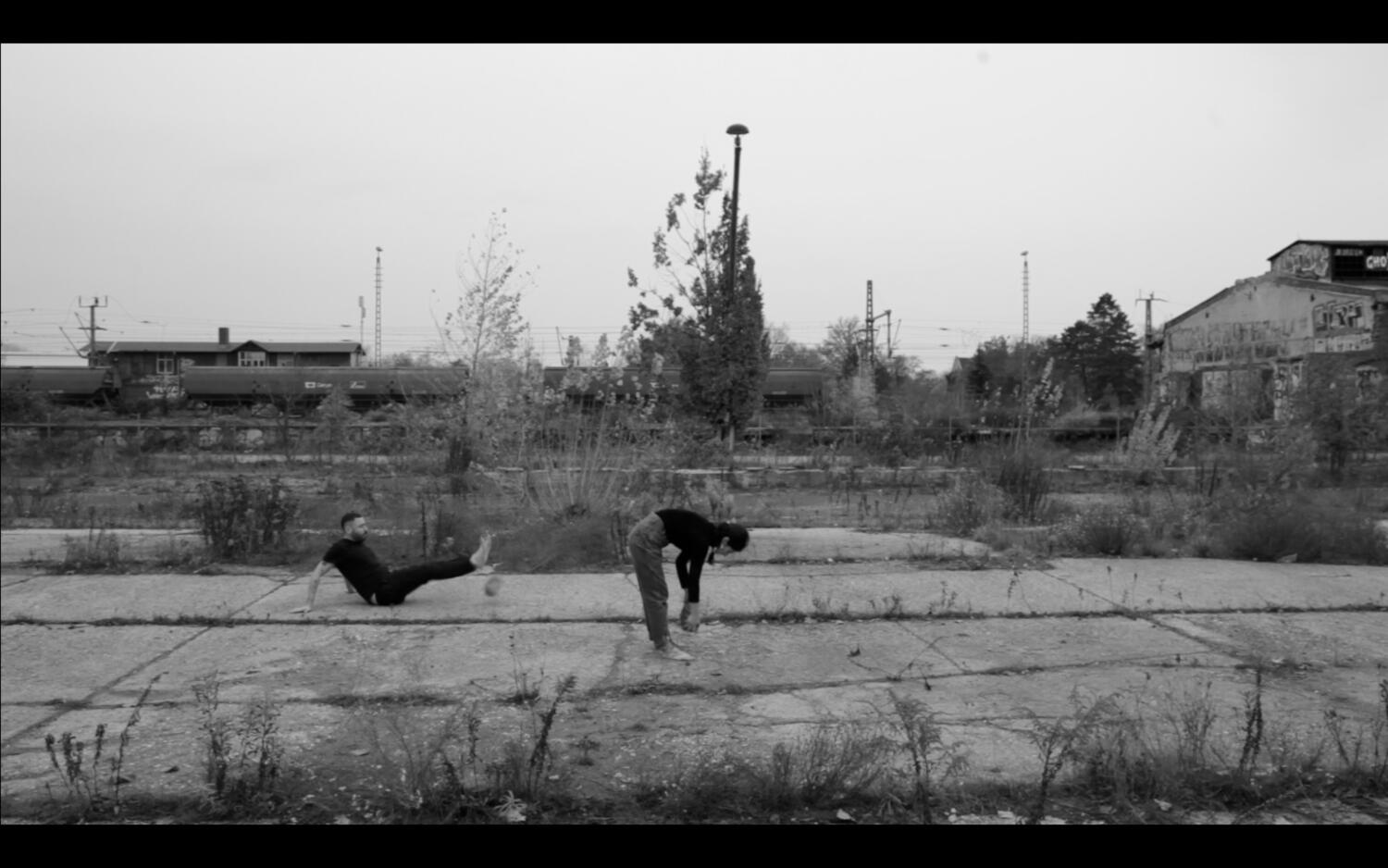 In The Planet Where We Met - stills from video performances. ©Ingrid Pumayalla and Mazen Khaddaj
Lavínia Diniz Freitas

Final Selection BienalSur 2021
Ingrid Pumayalla (PE)
Mazen Khaddaj (LB)
'In the Planet Where We Met' unites the practices of two internationally exhibiting artists from Peru and Lebanon. It consists of a series of collaborative video performances filmed shortly after Ingrid Pumayalla and Mazen Khaddaj got to know each other in Germany.The series highlights their process of familiarization with each other. Through shared, unscripted, live interactions, the exploration and cooperation of their commonalities and differences unfold to reveal the capacity of humans to trust.Their ongoing collaboration poetically addresses immigration, cultural issues, and emotions close to them individually as well as pressing issues in our society.The series continually develops as the artists will record new performances in every place that the multi-channel installation 'In the Planet Where We Met' is exhibited.
In The Planet Where We Met
Excerpts from video performances. ©Ingrid Pumayalla and Mazen Khaddaj
FLOATING PRESENCE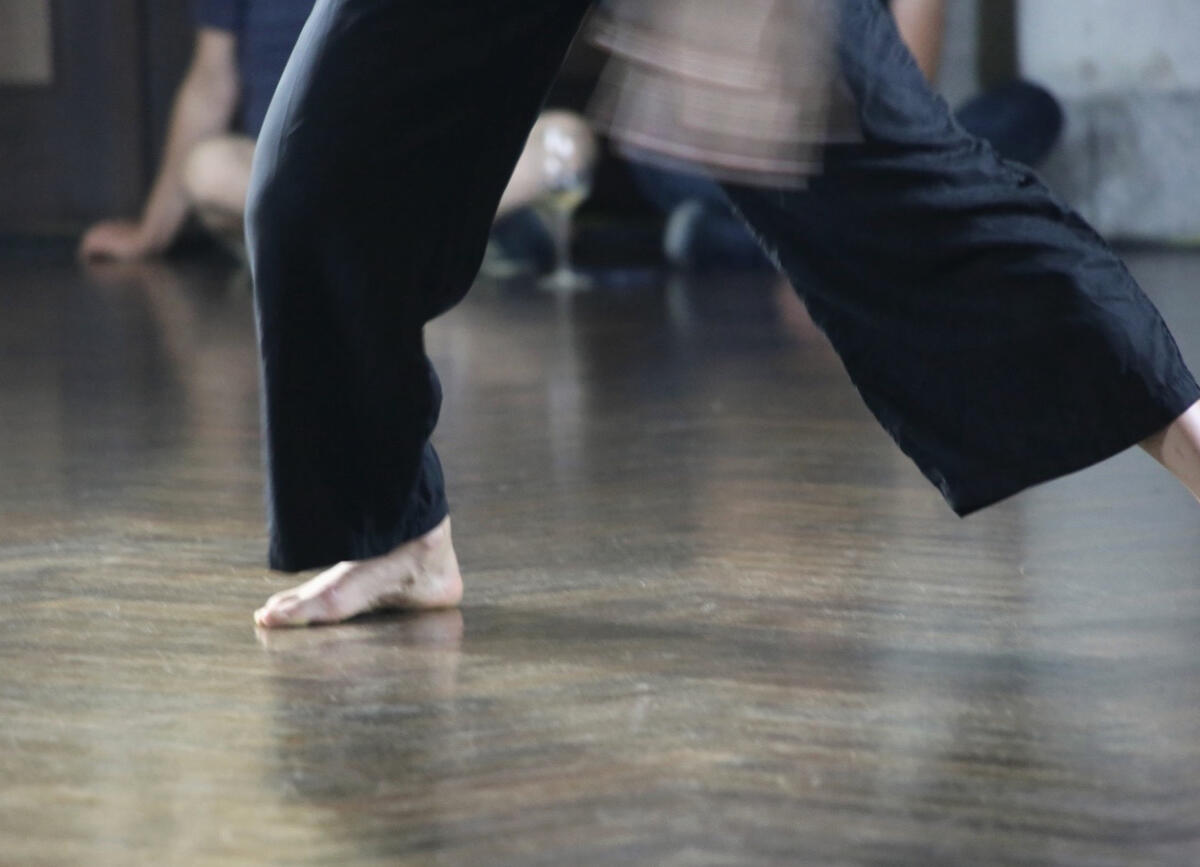 Performance by Anna Dahinden in dialogue with Roomination III by Katharina Bévand and Shahed Naji
Photo © Shahed Naji
4th Berliner Kunstsommer
13-22 Aug 2020
Humboldt Carré - Berlin
Concept by Lavínia D. Freitas
Vernissage 13/08
Finissage with Performance
by Anna Dahinden 23/08
With the kind supportMusikfonds - Federal Government Commissioner for Culture and the MediaKuchen Konderenz TechnikvisitBerlin
Humboldt Carré
Behrenstraße 42 | 10117 Berlin
Open daily 18:00 - 23:00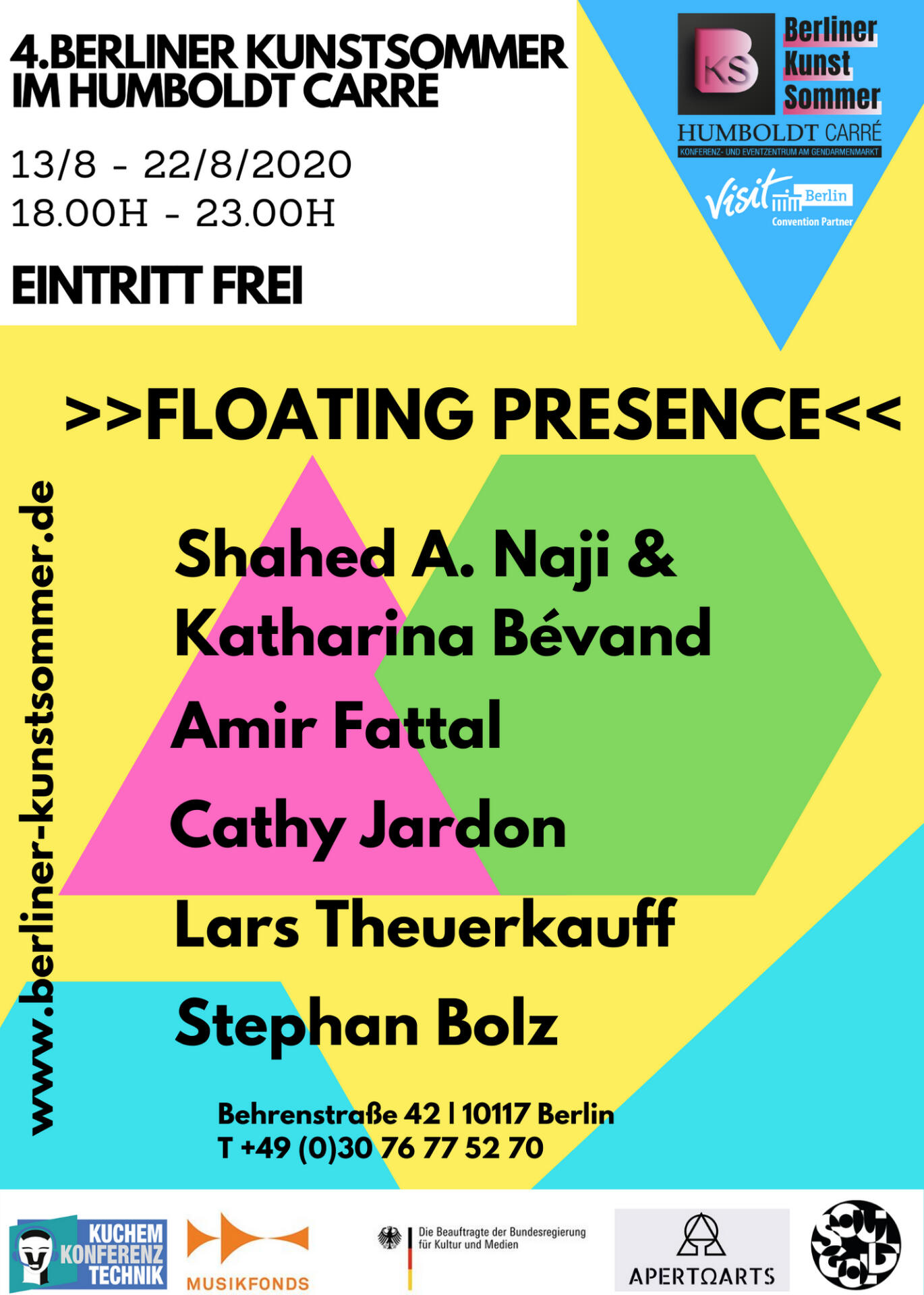 "Forms of modern life may differ in quite a few respects – but what unites them all is precisely their fragility, temporariness, vulnerability and inclination to constant change. To 'be modern' means to modernize – compulsively, obsessively; not so much just 'to be', let alone to keep its identity intact, but forever 'becoming', avoiding completion, staying underdefined..."
Zygmunt Bauman (1925 – 2017)One cannot dodge the speed of change these days. Transformations, mutations and metamorphoses are familiar processes in the dynamics of contemporary life. In the past few months, we swiftly adjusted to panoramas described as "uncertain" times, "strange" times, "unforeseen" times, "times of reflection", and the list goes on. All this occurred amid ever-expanding yet intermittent and explosive waves of social and political advancement - in some cases, retrocession.FLOATING PRESENCE probes what it means to be 'human' in the globalised, interconnected, and ethnically diverse world we inhabit. Over ten days and evenings, in line with the curiosity of Alexander von Humboldt, participants from the fields of visual arts, performing arts, fashion, design, business and sciences explore compelling themes and challenges which surrounds us, investigating themes of consciousness, sustainability, and transhumanism in times of change.Installations and artworks that heighten the experience and reflect the world by twisting perceptions for moving effect, stirring emotions, shifting the status quo and proposing new inquiries, which, conceivably, only infer more inquiries, permeate the historical building of the Humboldt Carré, originally a former bank.Participants' movements and art performances complete the site-specific installation composed of ephemeral mediums of sound and light. Figures of future offsprings born from a combination of raw DNA data of two different people invigorate the debate of what is possible and ethical in science in the journey for the betterment of humanity as well as spur the quest of eternal life and the dream of transformation. A towering figure of upcycled material prompt reflections on the human impact on nature - the Anthropocene, combined with the presence of children it reminds us of our responsibility to future generations.The exhibition FLOATING PRESENCE stimulates reflection on the fluidity of modern life. These reflections will be mutable, personal and unique to each visitor. However, the recognition that the challenges facing us require coordinated collective action despite these differences in interpretation and conclusions is hard to avoid.
Performance by Anna Dahinden in dialogue with Roomination III by Katharina Bévand and Shahed Naji Photo © Shahed Naji
Roomination III (2020)
Katharina Bévand and Shahed Naji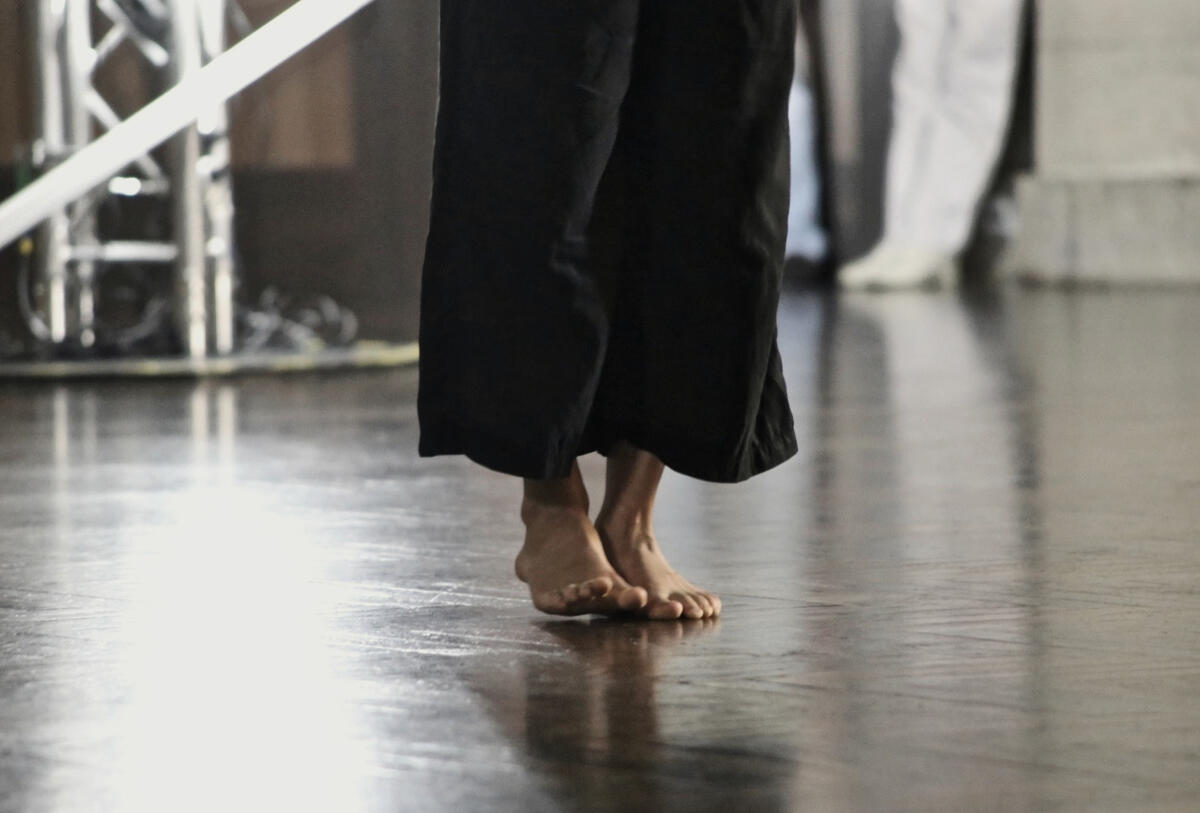 Performance by Anna Dahinden in dialogue with Roomination III by Katharina Bévand and Shahed Naji Photo © Shahed Naji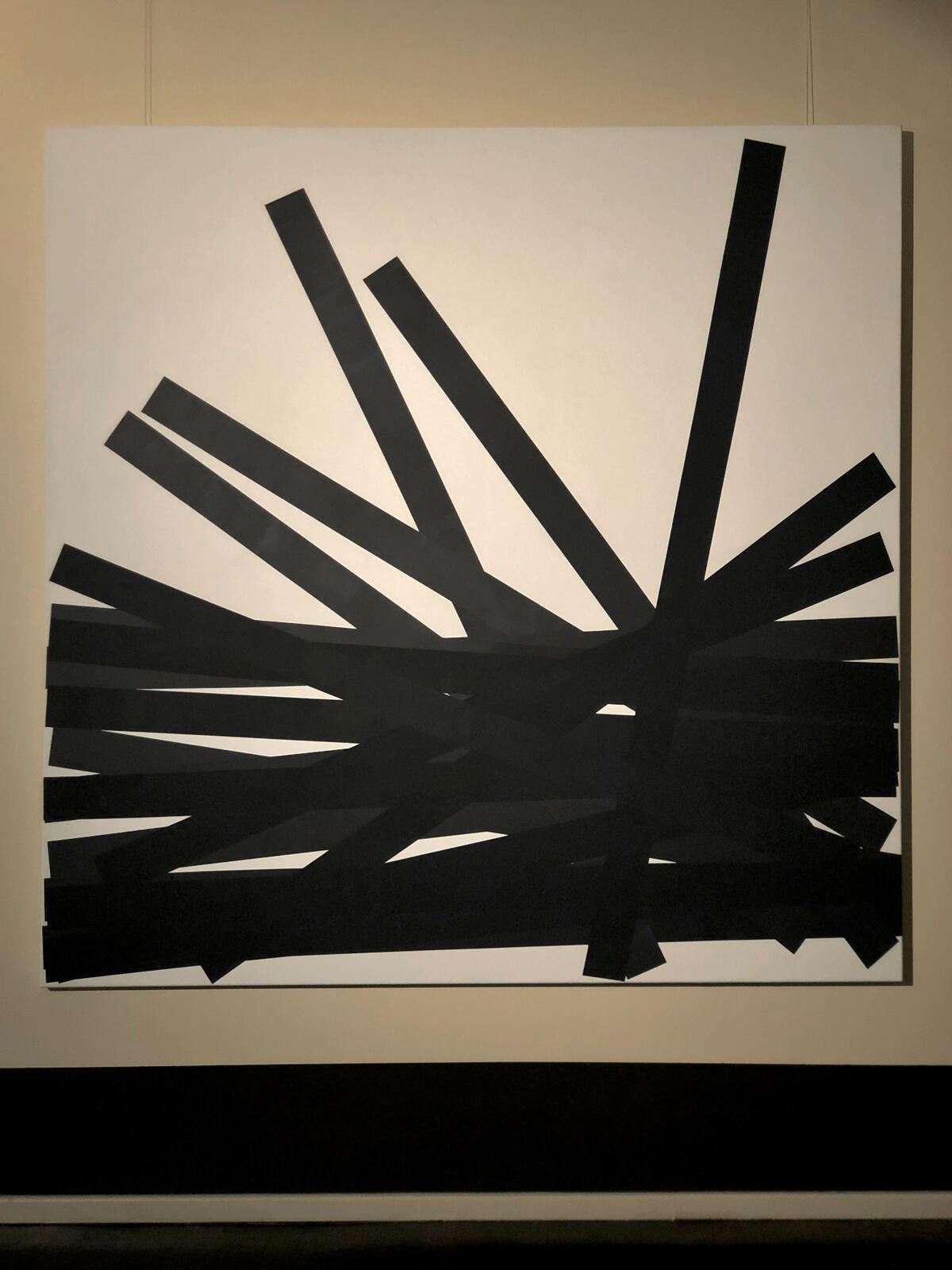 MM (2011)
Cathy Jardon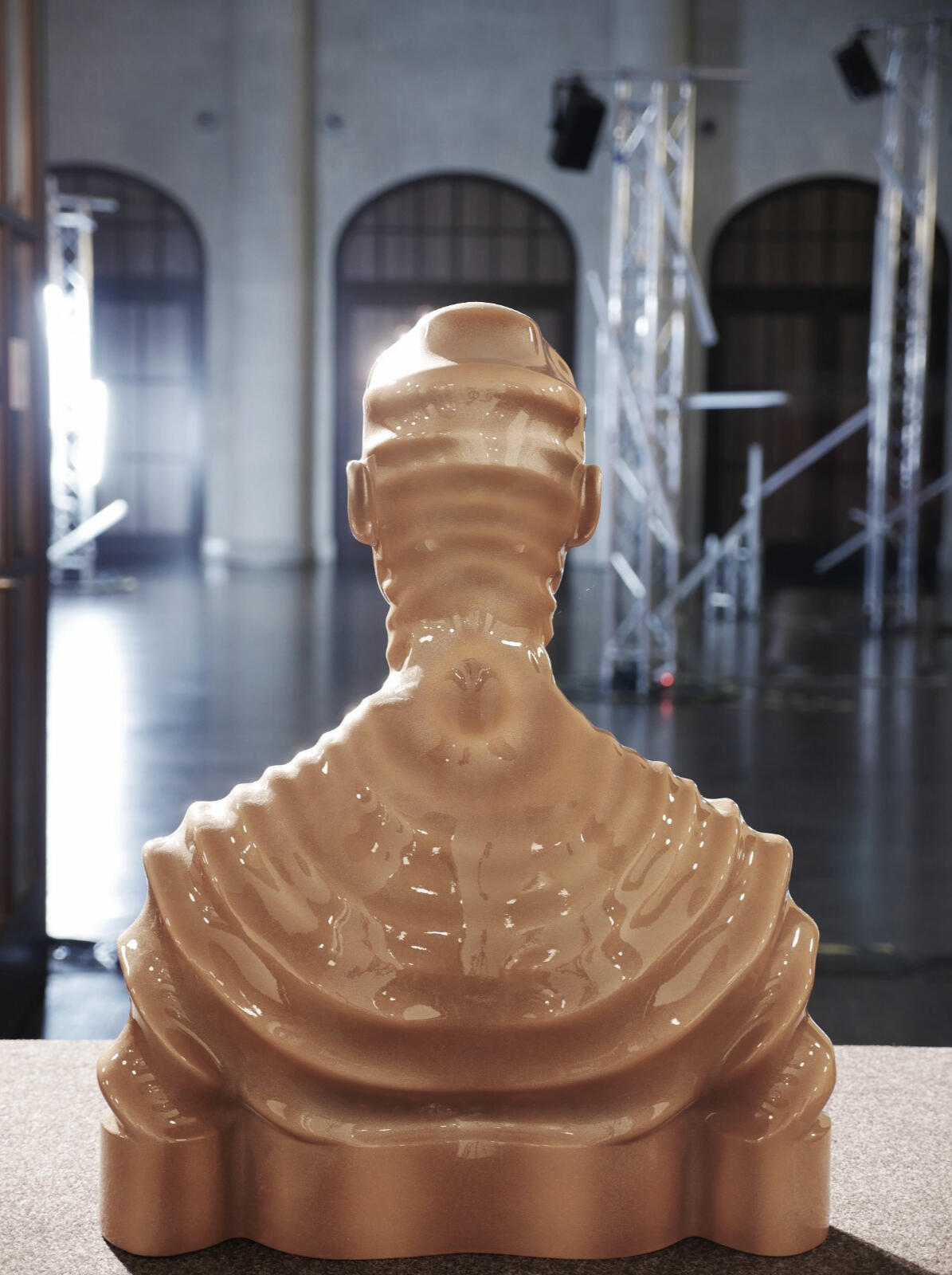 Untitled (2019)
Amir Fattal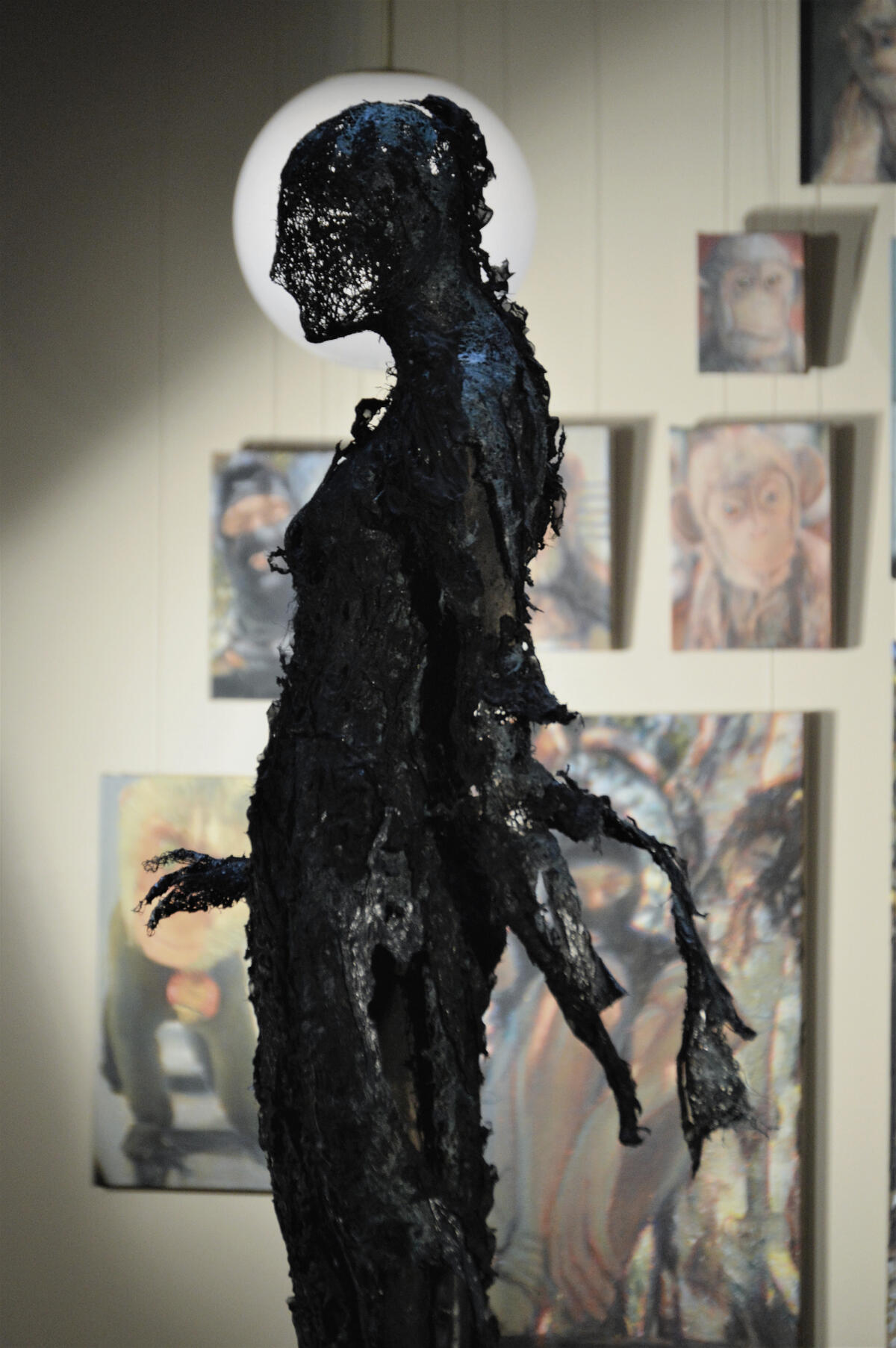 Die Braut (2020)
Stephan Bolz
Leipzig unfolding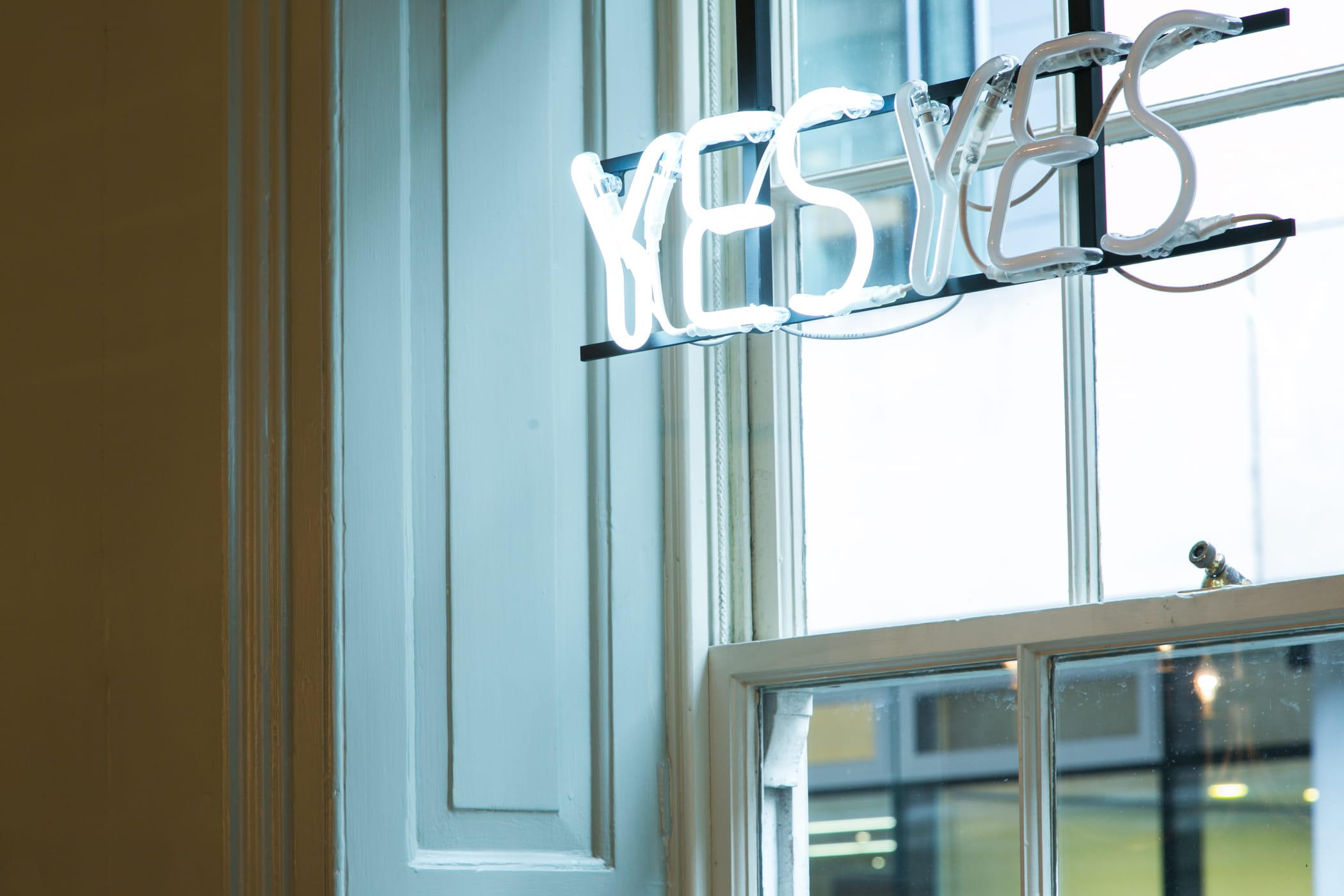 Installation view Yes/Yes by Famed 2016 © Andreas Grieger
Leipzig Unfolding
Oct 2015 - Feb 2016
London, United Kingdom
A group exhibition for the Art at Lloyds Programme at The Lloyds Club by PatchLondon
Curated by Lavínia Diniz Freitas
ARTISTS
Hans Aichinger (DE)
Christiane Baumgartner (DE)
Tilo Baumgärtel (DE)
Famed (DE)
Claus Georg Stabe (DE)
Henriette Grahnert (DE)
Martin Groß (DE)
Nadin Maria Rüfenacht (CH)
Rosa Loy (DE)
Steffen Junghans (DE)
Falk Messerschmidt (DE)
Christoph Ruckhäberle (DE)
Annette Schröter (DE)
Thomas Sommer (DE)
Corinne von Lebusa (DE)
Private View
30.09.2016 6 - 8:30 pm
Open to the Public
01.10.2016 17.02.2017
By appointment weekdays
▪ The Lloyds Club
▪ 42 Crutched Friars
▪ London, EC3N 2AP
Kindly sponsored by Hampden and Stadt Leipzig
Kindly supported by Leipzig Region

LEIPZIG UNFOLDING was the first survey exhibition of Leipzig art in London. The exhibition showcased the remarkable depth and range of the Leipzig art scene, aiming to bring it closer to the level of international recognition it deserves. Featuring artists from one of the oldest art schools in Germany, the Hochschule für Grafik und Buchkunst (HGB), the exhibition presented over 50 works encompassing painting, sculpture, photography, and mixed media installations. Christoph Ruckhäberle and Famed produced works specifically for the exhibition.Works by the younger generation of HGB artists were in dialogue with works by their professors, many of which artists of the renowned New Leipzig School.The exhibition was listed in FAD Magazine as a 'must see' exhibition in 2016.The curator thanks artists, private collectors, Alan Cristea (London), ASPN Galerie (Leipzig), Campoli Presti (London – Paris), Galerie Kleindienst (Leipzig), and Reiter Galleries (Leipzig – Berlin) for their support of this exhibition.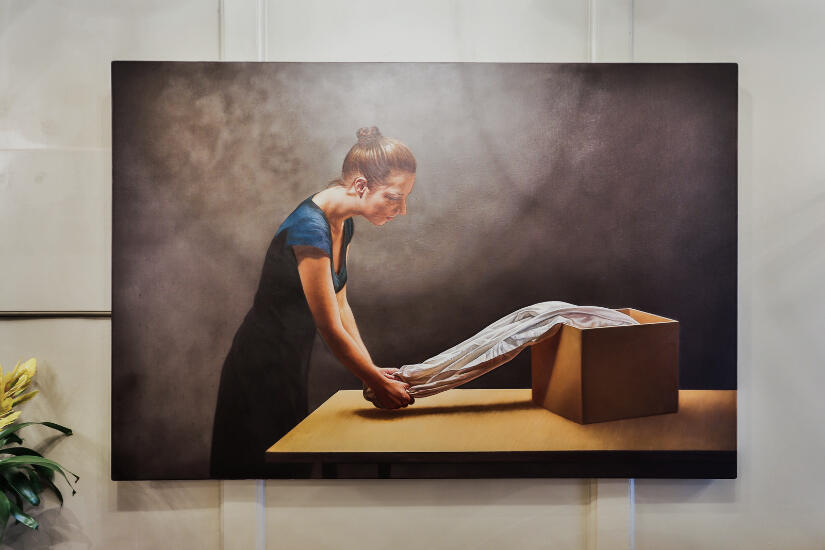 HANS AICHINGER, GEOMETRIE, 2011. Courtesy of the Artist and Reiter Galleries (Leipzig-Berlin)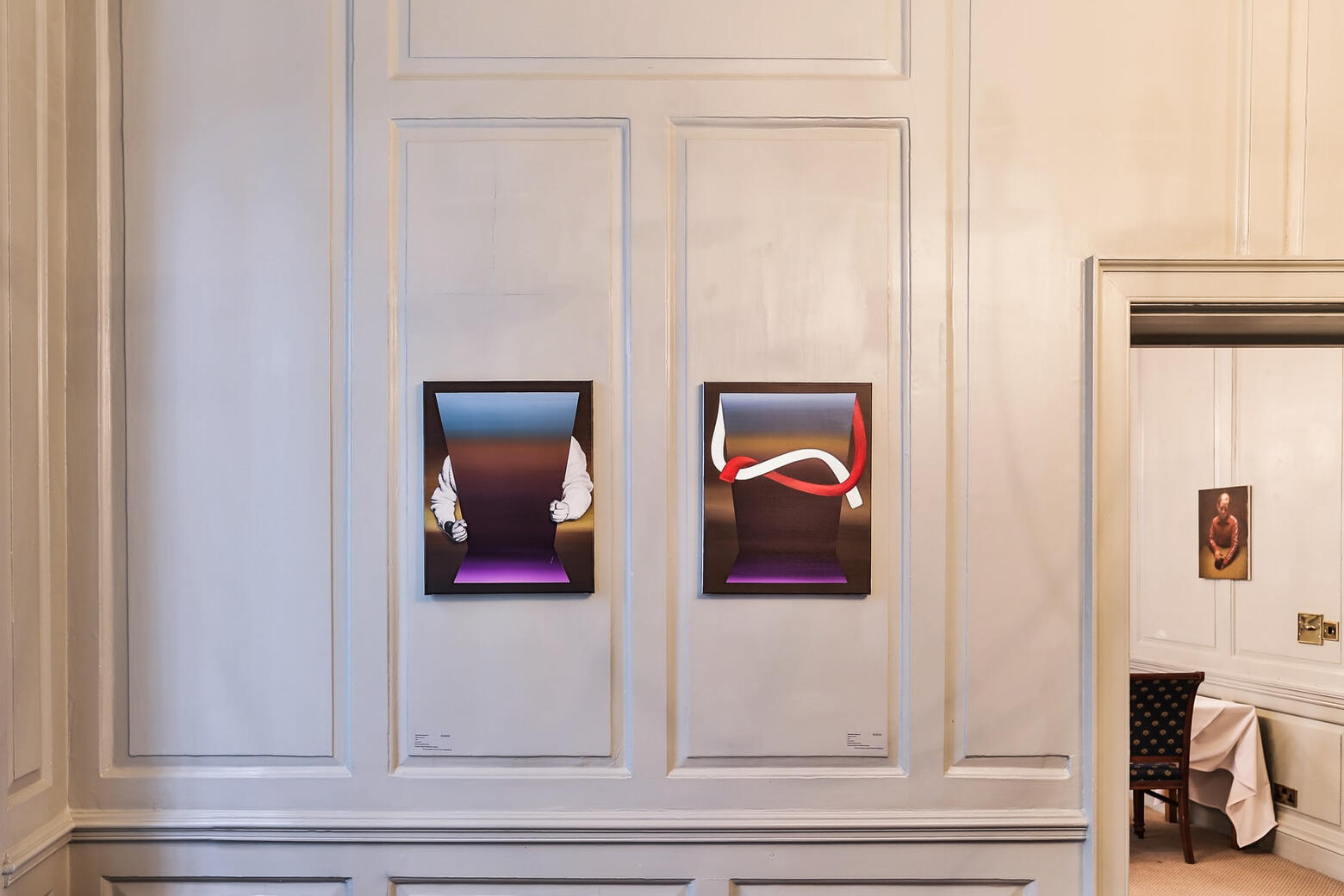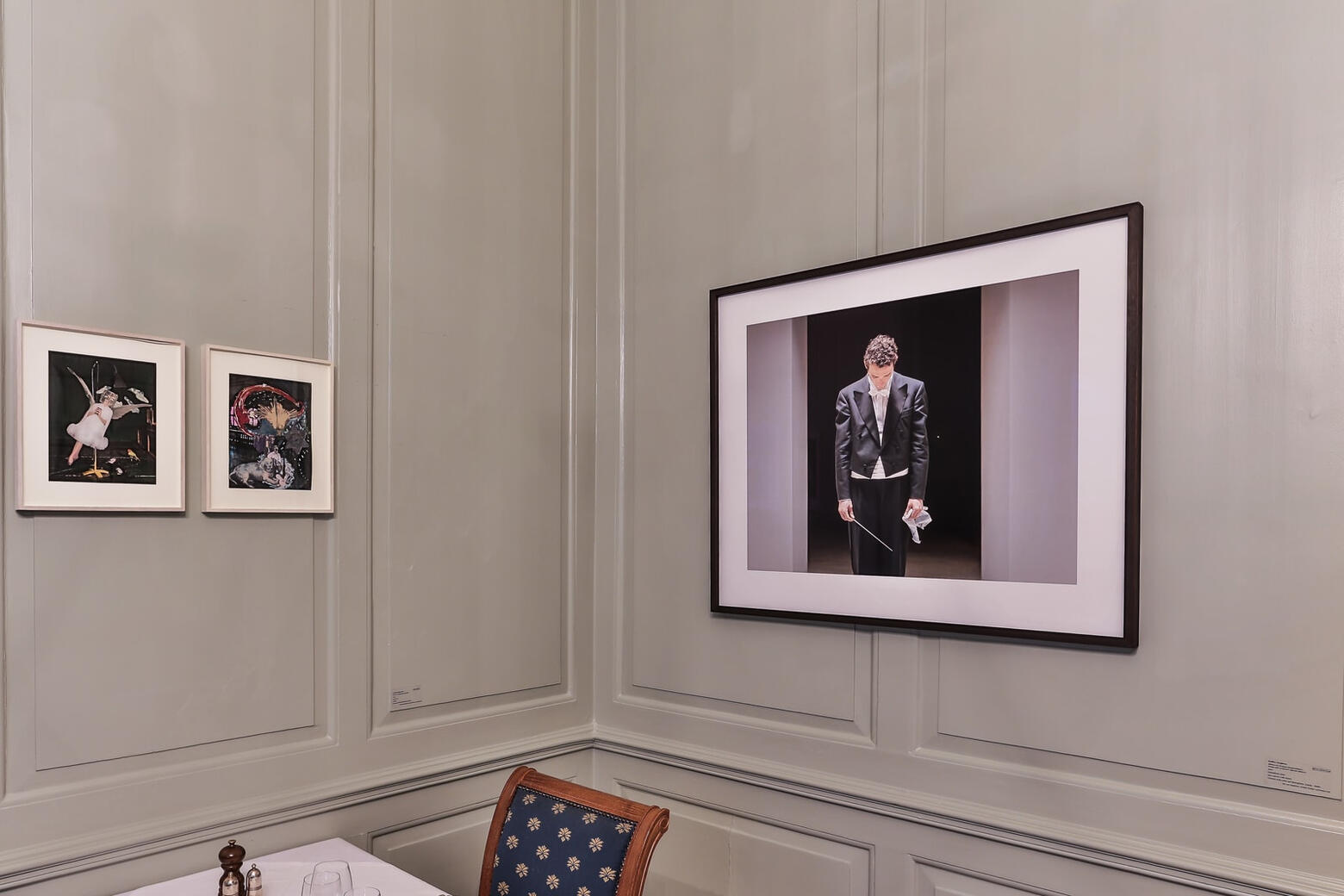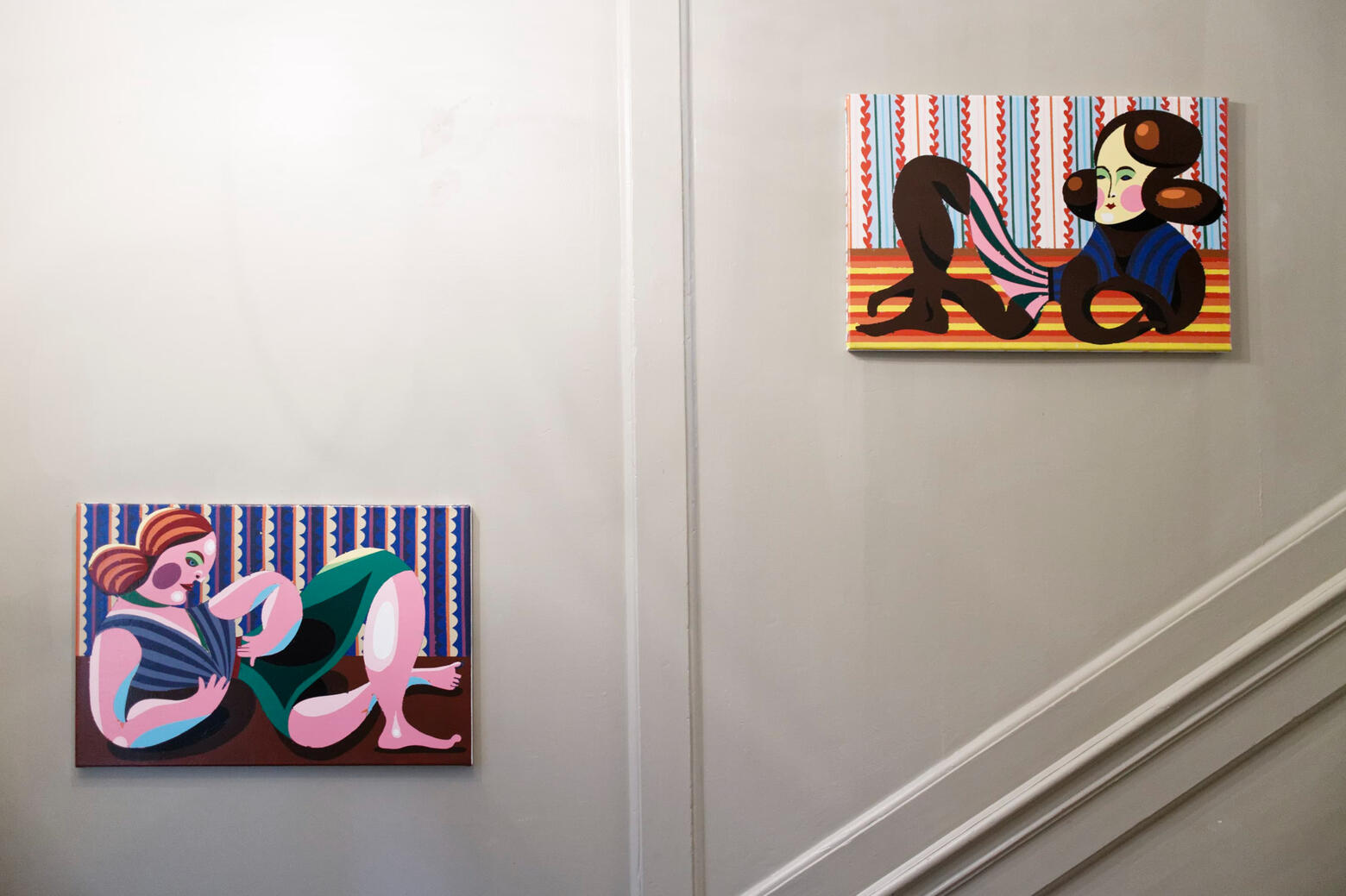 TOP LEFT: HENRIETTE GRAHNERT, IWA UND EDOM, 2013. Courtesy of the Artist and Galerie Kleindienst (Leipzig)
BOTTOM LEFT: NADIN MARIA RÜFENACHT TITEL NR 13 (SCHOLOSS BEENSENSTEDT), 2013; OHNE TITEL (ANGEL), 2014. Courtesy of the Artist and Galerie Kleindienst (Leipzig)
STEFAN JUNGHANS, IMAGE WITH CONDUCTOR, 2010. Courtesy of the Artist and Reiter Galleries (Leipzig-Berlin)
RIGHT: CHRISTOPH RUCKHÄBERLE, NETSUKE 17, 2015; NETSUKE 16, 2015. Courtesy of the Artist and Galerie Kleindienst (Leipzig)
TILO BAUMGÄRTEL, OPPOSITE DAY, 2012; ANNETTE SCHRÖTER, KLEINES HAUS I, 2009. Courtesy of the Artist and Galerie Kleindienst (Leipzig)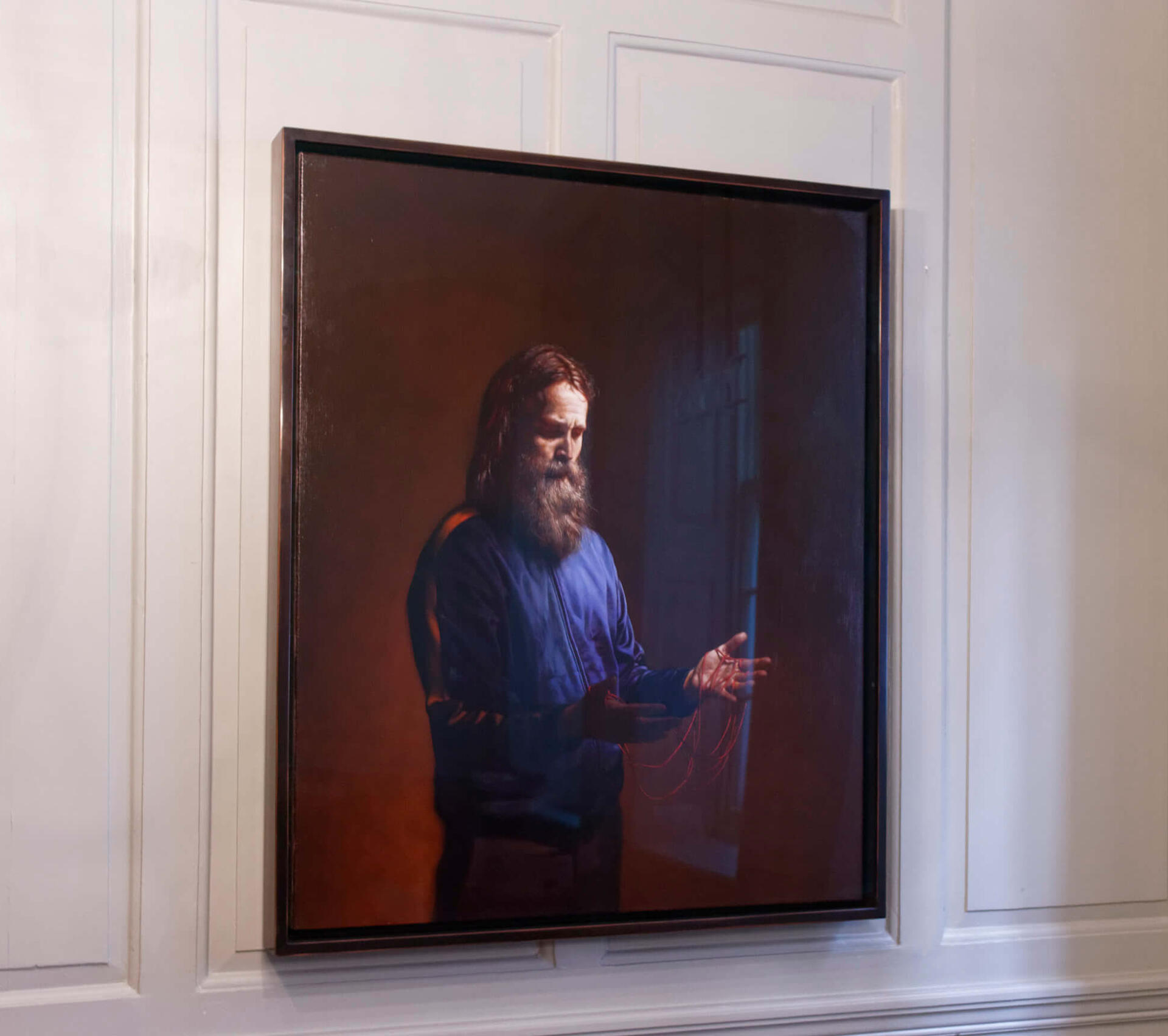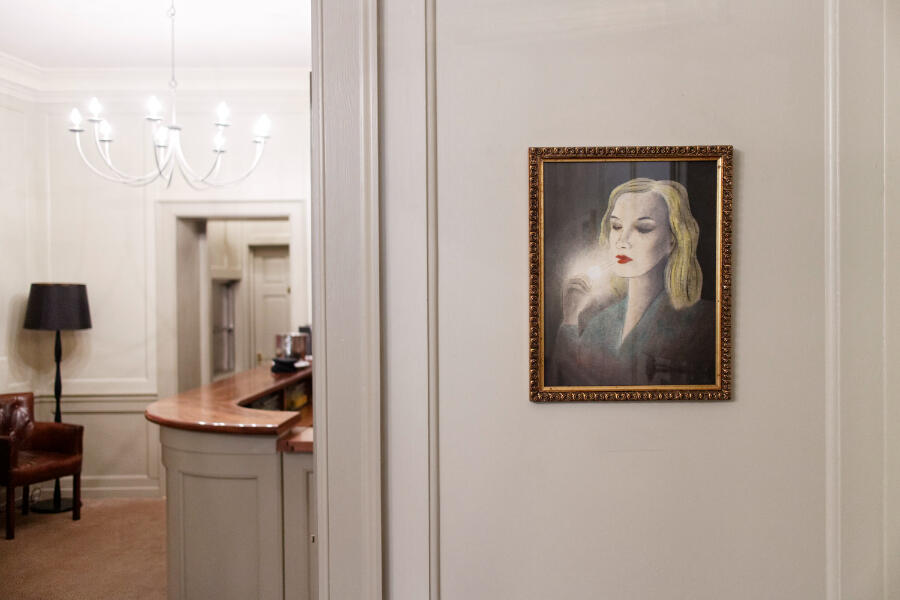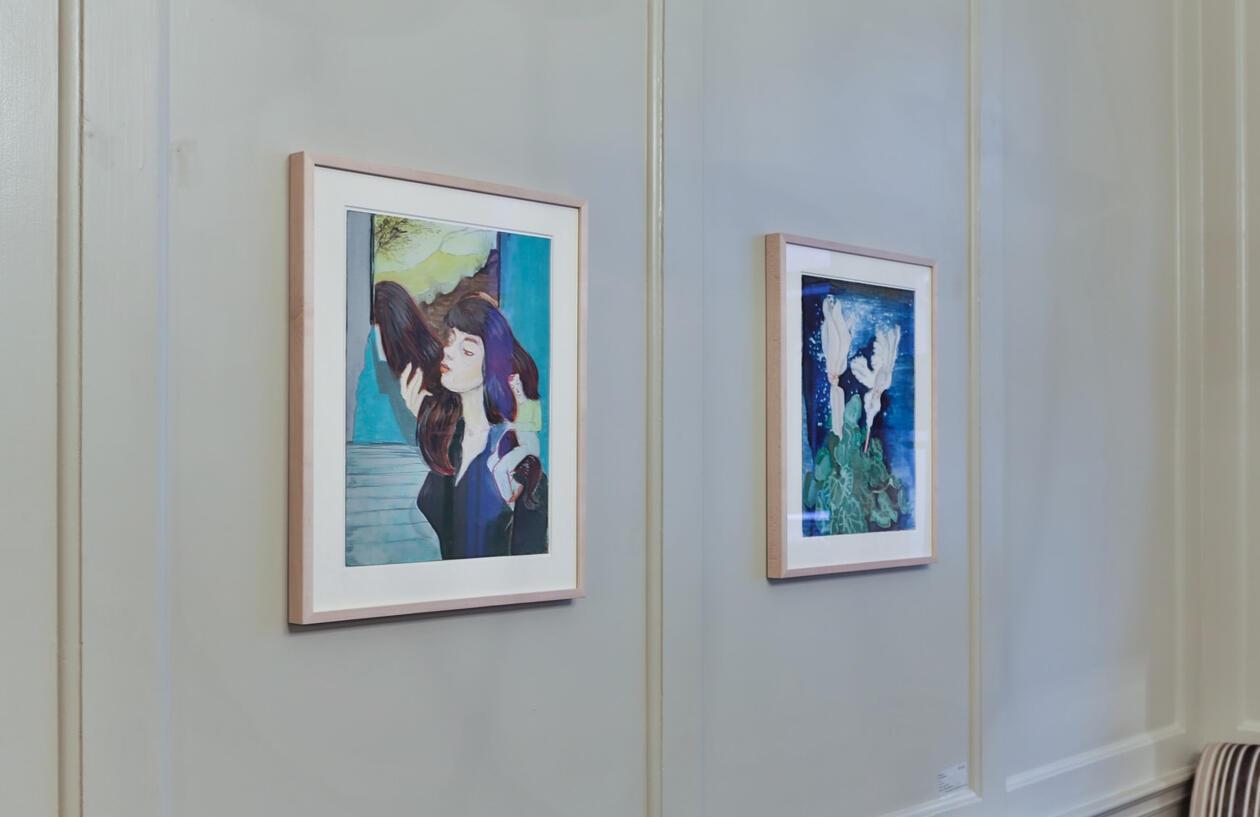 HANS AICHINGER, DER ZELOT, 2014, Courtesy of Private Collector
CORINNE VON LEBUSA, INDEPENDENT BEAUTY, 2014. Courtesy of the Artist and Galerie Kleindienst (Leipzig)
ROSA LOY, SCHOPF, 2013; BOTSCHAFTERIN, 2013. Courtesy of the Artist and Galerie Kleindienst (Leipzig)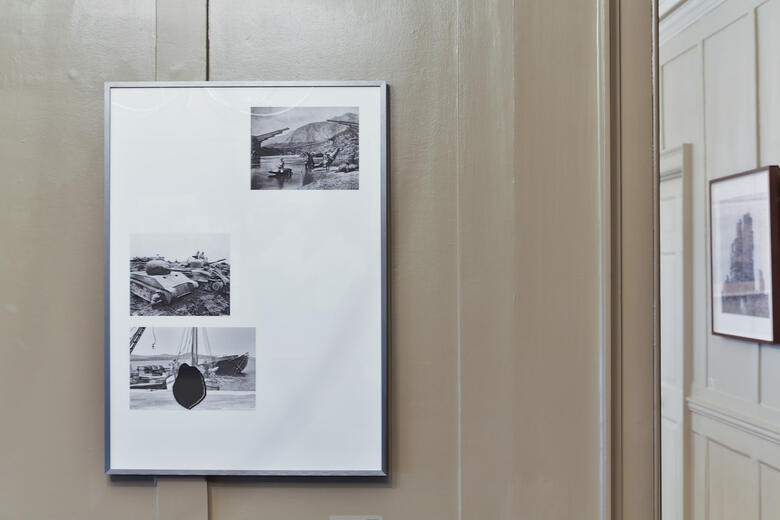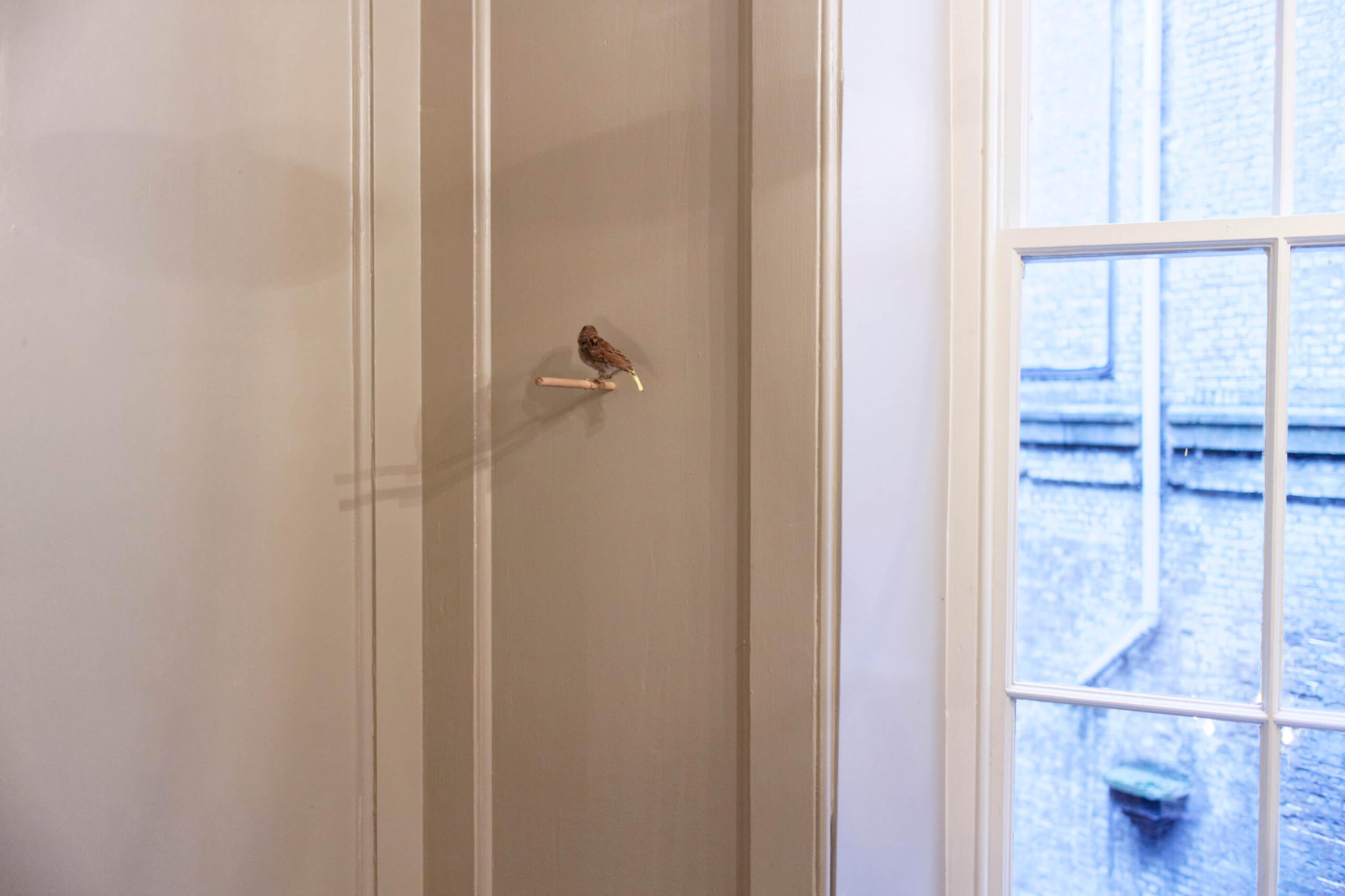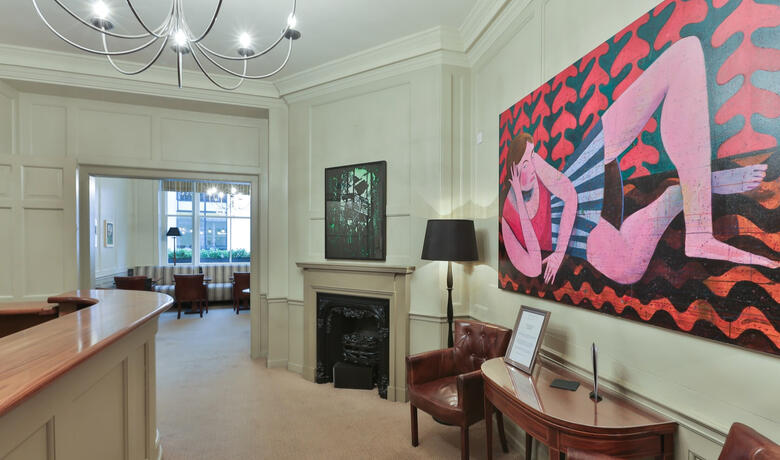 FALK MESSERSCHMIDT, PHAINESTHAI, PLATE 9, 2014. Courtesy of the Artist
FAMED, UNTITLED [GELBE FARBE MACHT AUS SPATSEN KANARIENVÖGEL], 2012. Courtesy of the Artist and ASPN Gallery Leipzig.
ANNETTE SCHRÖTER, BUDE, 2009. Courtesy of the Artist and Galerie Kleindienst (Leipzig);
CHRISTOPH RUCKHÄBERLE, UNITLED, 2014. Courtesy of the Artist and Campoli Presti (Paris)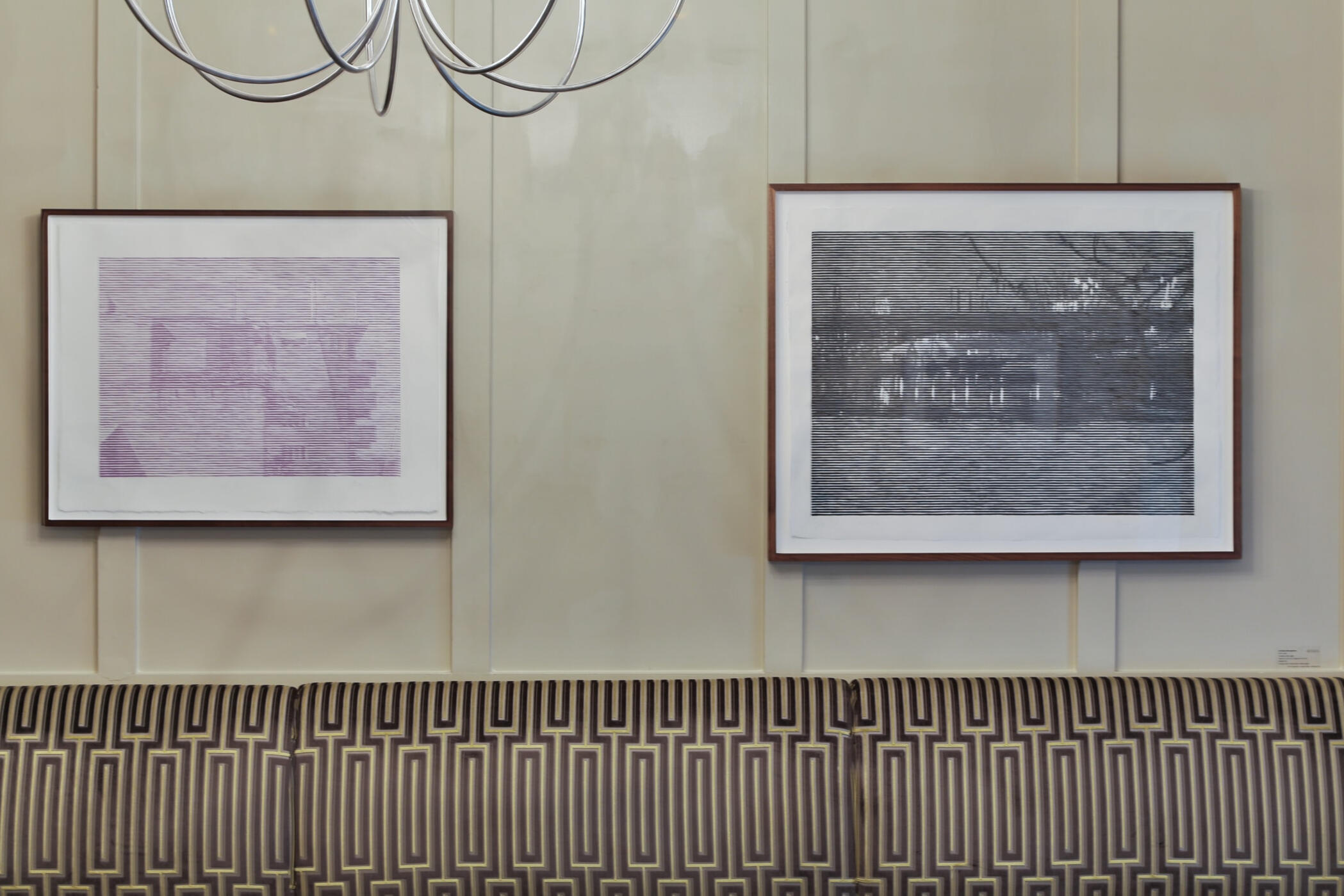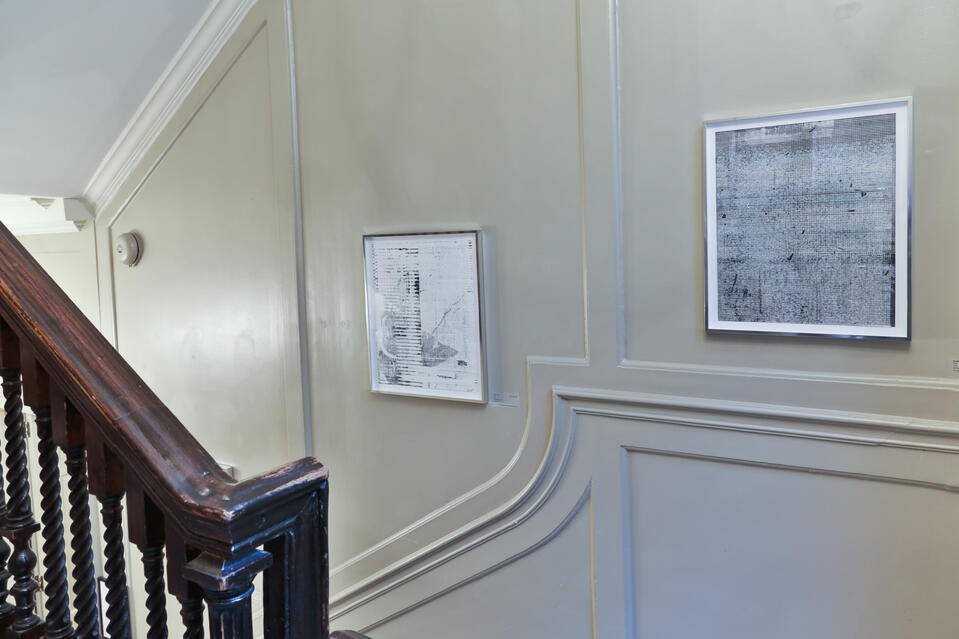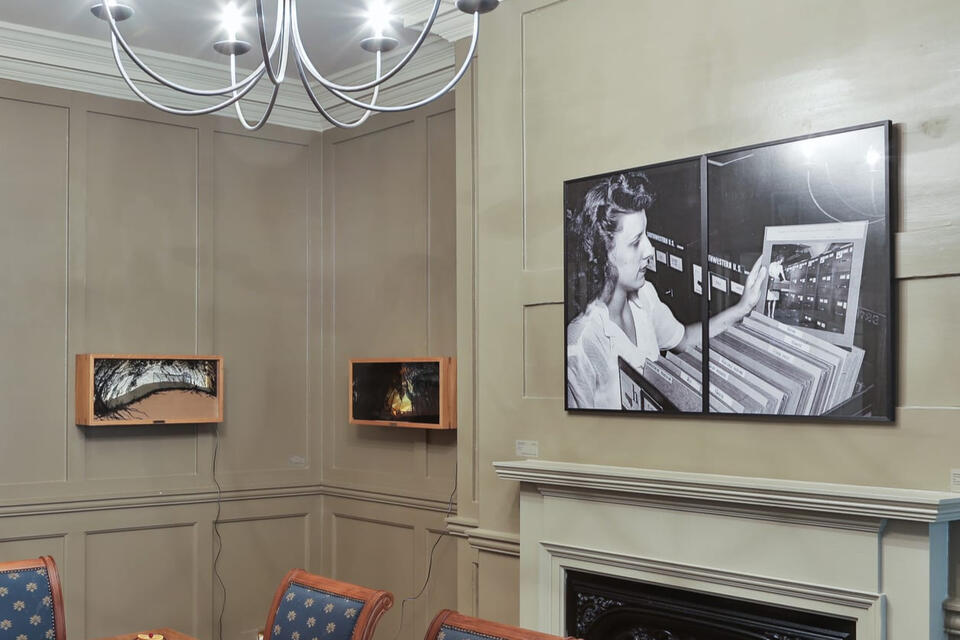 CHRISTIANE BAUMGARTNER, LÊ LỢI, 2014 On Loan from Christiane Baumgartner ©VG Bild-Kunst Bonn e.V. 2015; BERLIN, 2009. Courtesy of the Artist and Cristea Roberts Gallery (London)
MARTIN GROß, LORE, 2015; GLINT, 2015. Courtesy of the Artist
THOMAS SOMMER, C 37, 2014; C 41, 2014; FALK MESSERSCHMIDT, PHAINESTHAI, PANEL 6, PANEL 7, 2014. Courtesy of the Artist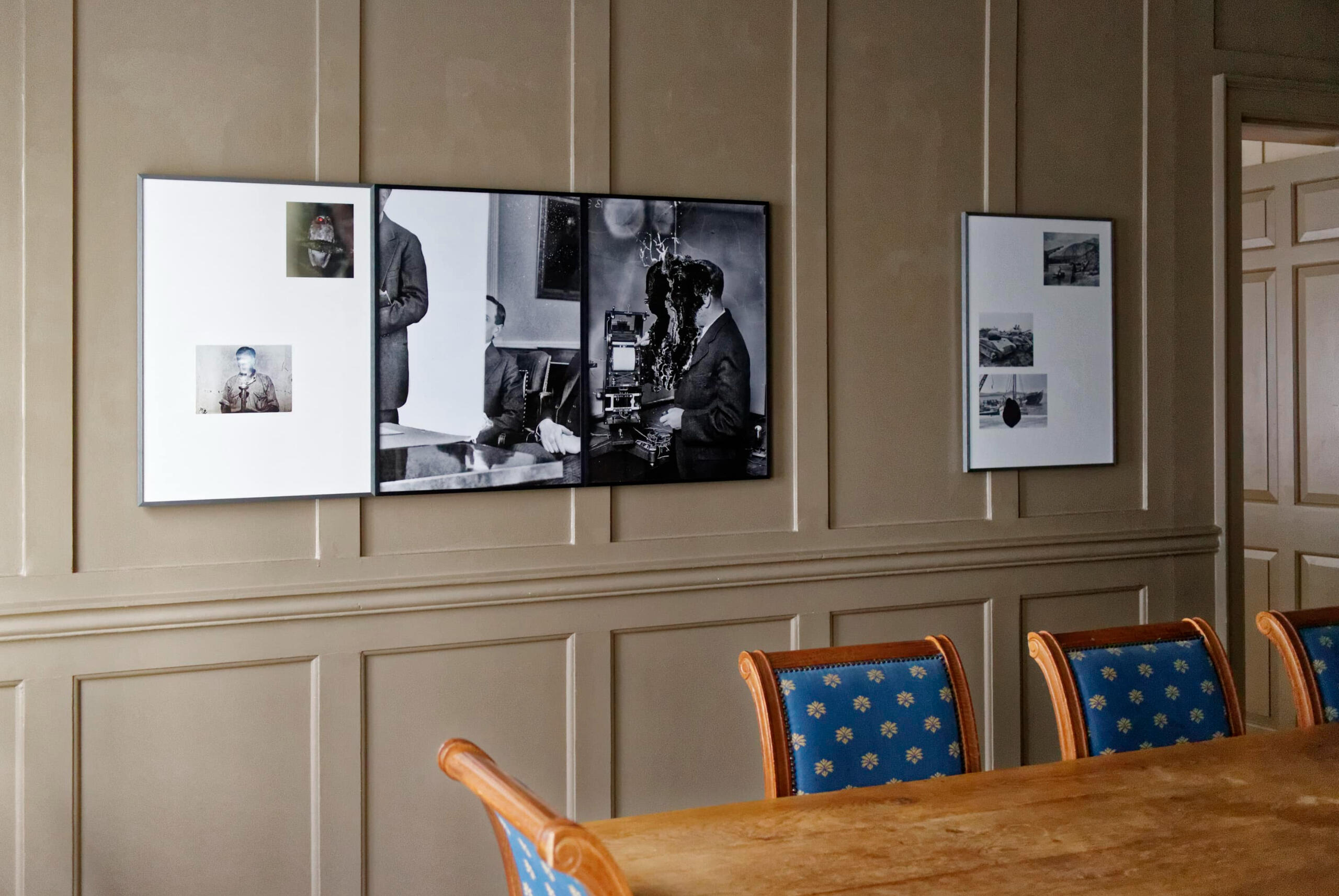 FALK MESSERSCHMIDT, PHAINESTHAI, PLATE 8, PANEL 4, PANEL 2 AND PLATE 9, 2014. Courtesy of the Artist
MOVING SPACE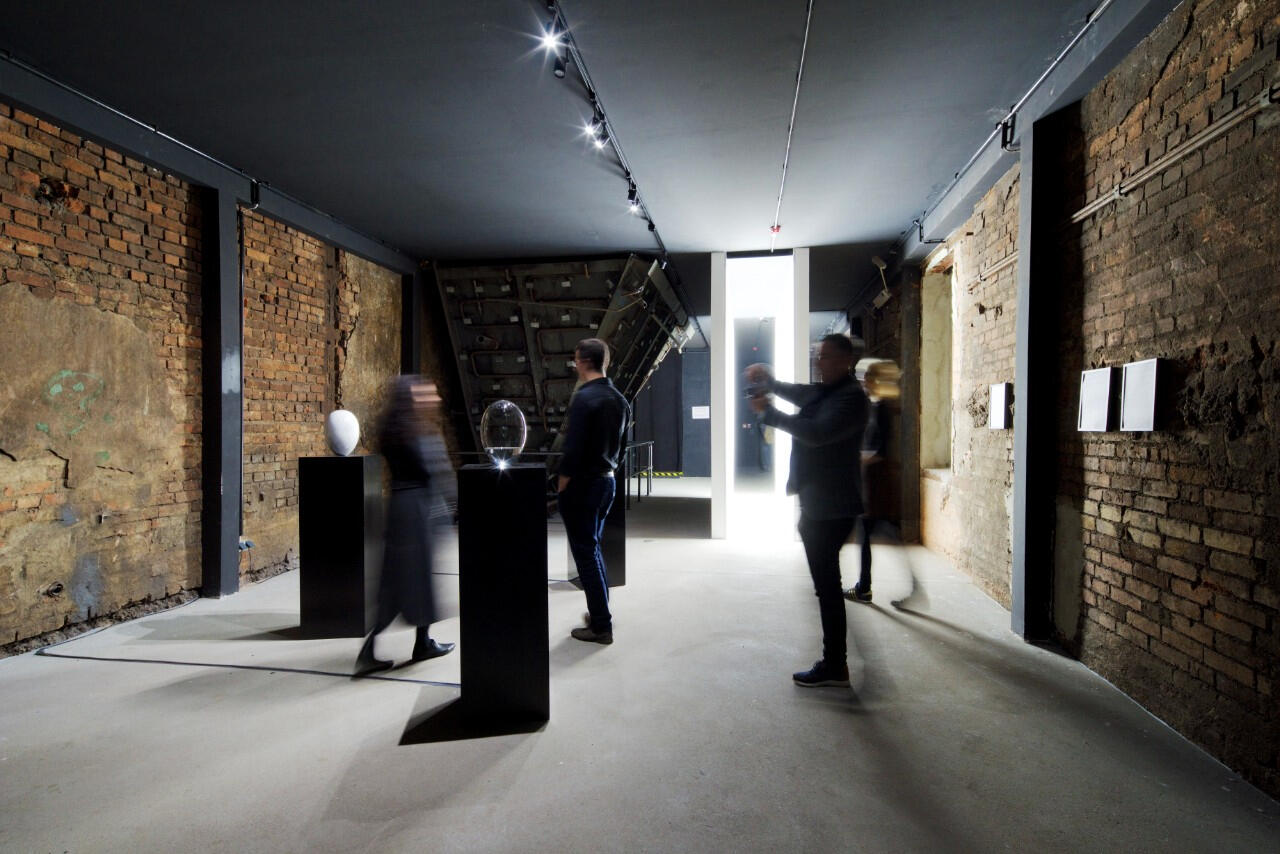 Installation view Moving Space 2017 © Peter Eichler
Moving Space
21 Jan - 12 Nov 2017
Leipzig, Germany
A group exhibition for the Illusion Art Project by the Kunstkraftwerk

Curated by Lavínia Diniz Freitas
ARTISTS
Jeongmoon Choi (KR)
Ivana Franke (HR)
Karolina Halatek (PL)
Wisp Kollektiv: Felix Deufel,
Kenneth Kirschner, Paul Schengber, Markus Schuricht (DE)
LAB212: Cyril Diagne, Béatrice Lartigue (FR)
Guillaume Lachapelle (CN)
David Rickard (NZ)
Holger Schulze (DE)
Ief Spincemaille (BE)
Ben Tyers (UK)
19.01.2017 11:00 - Presserundgang
21.01. 12.11 2017 – Open to the Public
Dialogues on Site
LAB212
21.02 11:00
Karolina Halatek
14.05 15:00
Holger Schulze
09.04 15:00
Tuesday - Sunday and bank holidays
10:00–18:00
SAALFELDER STRASSE 8B
▪ 04179 LEIPZIG
▪ E INFOKUNSTKRAFTWERK-LEIPZIG.COM
PRESS
Moving Space is the second exhibition of ILLUSION, a series of art exhibitions testing our notions of materiality, space, and perceptions whilst revealing different facets of how the brain works. Leading and emerging artists respond to the spatial context of the Kunstkraftwerk with objects, site-specific and leading-edge technology installations.Shaped by past experiences, mental models combined with our senses inform our perception of the self and the world. Human tendency is to get trapped in familiarity, losing the feeling of awe and wonder for our surroundings. Moving Space is an antidote to a preconceived notion of order and meaning.Featuring existing and newly commissioned works by Leipzig-based and international artists, Moving Space evokes a unique aspect of how we perceive the world.From the insightful and intuitive to the philosophical and meditative, from the technological and scientific to the illusional and unpredictable, each artwork transforms not only the Kunstkraftwerk industrial architecture, but they are, in a sense, completed by us. Ultimately, these installations subvert and sharpen the experience of the setting while inciting us to step into the boundary between presence and absence and the inner and outer.With the use of intangible materials such as sound, color, and light as well as physical elements such as an endoscopy pill, threads, mirrors, an artist's inner body, and our own bodies, the exhibition is an invitation to take charge of exploring our own sensory experience with increased awareness.Far from wanting to offer some utopian journey, it is my hope that by navigating, wandering, and wondering, Moving Space will allow us to enter into a state of introspection that is unique to each of us, shining a light on the interiority of our body and psyche. Ultimately, I hope it can achieve a far greater value. It will enable us to look at ourselves, each other, and the world in a new light, along with the understanding that reality's existence hinges on our consciousness as observers and explorers, as well as our openness and empathy for each individual unique experience and perspective.
Feedback, Reversed Blinking, and Virtual Ground
Ief Spincemaille
Feedback, Reversed Blinking, and Virtual Ground belong to a series of artworks, in which Ief Spincemaille manipulates our natural way of seeing. Each device is linked to a different physical and scientific phenomenon: with Reversed Blinking we experience illusional retinal persistence, Feedback highlights our ocular dominance, and Virtual Ground promotes a virtual sensory experience.
Virtual Ground (2009)
Ief SpincemailleVirtual Ground takes us on a semi-sensorial experience around the Kunstkraftwerk. While holding the mirrored object under our eyes, our gaze is directed towards the ground, but we see the ceiling. The brain is predetermined in such a way that it seems as if we have stepped over the structures of the incredibly rich industrial ceiling. An analog version of virtual glasses, the spectator seems to be positioned in a space that is not really there.
Feeback (2009)
Ief SpincemailleIn Feedback two peepholes have been made on a square-shaped metal tube. In the interior of the tube are two mirrors, positioned at an angle of 45 degrees. When looking through the holes, the left eye looks at the right eye, and the right eye looks at the left eye.
Reversed Blinking (2009)
Ief SpincemailleIn Reverse Blinking the shutter moves so fast that it leaves no space for movement. The plates move up and down causing your eyes to make a reverse blinking movement: the plates are generally shut off, and only open and close quickly and briefly. We can control the frequency to open and close the shutter, but not the speed (shutter time), which is constantly 0,5 seconds. The experience shines a light on the reality of our era, in which the world has become an image, and the image has become the reality.
Visitors are invited to explore the spatial and interactive qualities of music, through a poetic setting.When they touch and trigger vibrations of the luminous threads, the notes associated with each thread are played on an electro-mechanic piano. The melodies are triggered by the visitors but their intrinsic configuration remains out of their control.
The proportions of the piece give way to the gathering of multiple points of view that generate different geometrical outcomes: dynamic, ascending, and singular. Each of them offers different ranges of interaction, conditioning simultaneously the intimate experience and global state of the space.The melodies evolve over time. Blurring the frontier between manual and procedural music score creation, they force the visitors to question the origin of the music they hear and their control over it.
SEEING WITH EYES CLOSED
Ivana Franke
Simultaneously illuminating LED lights are programmed to flicker at a frequency between 12 and 50 hertz for a duration of 3 minutes and 18 seconds. Flash duration of 6 milliseconds is constant while pause duration varies. We are invited to sit on the floor in front of the object and close our eyes. The exposure to flashing light promotes a quasi-hallucinatory visual experience of flowing images behind closed eyes. Being aware that the seen images have no foundation in external reality, one experiences them as hallucinatory.
This 'conscious quasi-hallucinating' challenges our sense of the real in its alternation and its permeability with the imaginary. Each person's experience differs from that of others, and each ascribes different dimensions to the perceived space in constant transformation. With the unpredictability of visual responses to light stimuli, participation in the art installation raises the question of subjectivity and authorship. The final "work" happens in our body and depends on our experience as well as on the boundary between the public and intimate space.
Seeing with Eyes Closed (2011) is realized within the research project of the same title with neuroscientist Ida Momennejad, initiated by Alexander Abbushi, in collaboration with the Association of Neuroesthetics. The work has been part of exhibitions as well as has been the focus of discussions in a number of interdisciplinary symposiums around the world.
TRINITY - BREATHE, VORTICE, EQUILIBRIUM
Ben Tyers (2009 – 2016)
This trinity of artworks expresses in form ideas and feelings in relation to creation – the underlying principles and driving forces behind physical manifestation, human interaction and experience, the cycles of life and death and the phenomena of growth and decay.
Naturally, the balance between decay and growth is always in favour of the latter. This predominance of refinement over decay in nature means that there is not only an abundance of growth but constant progress in evolution and the resulting support of increasingly complex and refined life forms. It is this idea of balance and reciprocal interplay, which is present in all life, exemplified by human breathing, that is behind the artwork Breathe. Encapsulated in the generative form of the egg, the water rhythmically alternates between the opposites of suction and pressure with the regenerative inward breath always exceeding the outward.
The flow forms associated with this rhythmic interchange of polar opposites are expressed in Vortice, the infinite loop of fluid flow that underlies all visible and non-visible effect. The mathematics of this vortical form is seen at every level of the natural world from the cosmic to the atomic scale. The physical universe is projected forth through energy in motion, and it is the nature of this motion that dictates the quality of creation and whether the resultant forms are of growth or decay.
With every rhythmic motion and exchange, there is a neutral point of rest centering it. Equilibrium is the still balance point, which acts as the fulcrum for these rhythmic exchanges. In this dualistic universe, every action has an equal and opposite reaction, every effect is mirrored about a central neutral point, pressure/ suction, positive charge/ negative charge, growth/ decay, and so on, and it is from this still balance point that everything arises.Together the elemental forms of Vortice, Breathe, and Equilibrium embody the harmony of energy flow, Water, Air, and Earth and are an invitation to contemplate, re-balance and introspect.
VALLEY
Karolina Halatek
Valley(2017), installation view Moving Space © Karolina Halatek
Valley (2017) is a large-scale immersive spatial sculpture. It consists of two parallel screens of white light, where the void is filled with radiating brightness.The minimalistic passage draws us to experience pure whiteness and blend in with the intensity of light. The scale of the site-specific installation engages us sensually and alters the perception of opposites – total darkness vs total brightness. Walk through Valley gives one a chance to leave the mundane behind and become an active part of the light dyad.The inspiration for Valley is the union where two become one: the intangible medium of light is so intense that becomes almost solid, so the spectator is invited to be consumed by this conceived union.Commissioned by Kunstkraftwerk for Moving Space.
THE STRANGER WITHIN US
Wisp Kollektiv
Paul Schengber, Felix Deufel, Markus Schuricht, Kenneth Kirschner
Parting from the concept of empathy as highlighted by Swiss-German psychologist and psychoanalyst Arno Gruen in "Der Fremde in uns", The Stranger Within US invites us to reflect upon the lack of empathy in our society and the impact of this phenomenon in the personal and political spheres.
Set up in a partially mirrored room, we are invited to step into a virtual environment. Virtual images of ourselves are mapped into an illusional endless digital landscape through an almost 360° projection. The landscape represents the world as itself and the virtual images the "stranger within us". Our actions within this world transform the landscape. Strange point-clouds of human bodies appear randomly in the landscape, slowly erasing the previously build landscape. To bring back our past creations we have to adopt the movements of these point-clouds.
NUIT ÉTOILÉE
Guillaume Lachapelle
Nuit Étoilée (2012), Guillaume Lachapelle, installation view Moving Space © Peter Eichler
Guillaume Lachapelle works are internal sculptures of limitless and ubiquitous spaces. They are illusionary vessels that allow us to enter into a state of introspection that is unique to each of us. His works can be read as metaphors, in which familiar objects and environments are transformed and reinterpreted. Designed as dioramas, their playful appearance is misleading; rather, they use irony to illustrate the complexity of our relationship with reality, while simultaneously revealing the underlying and disquieting dimension of daily life. Dreamlike or haunting, these small worlds are about the emotions and memories we perceive in the places they are based on but they also transcend these spaces to create a singular, at times, uncanny universe.
I
David Rickard
Video installation and endoscopy pill capsule
Engaging with our perception of self and the world beyond, a peephole in one wall and a small pill sized camera are the visual elements of the work 'I' at first sight. Peering through the peephole into the wall, a video reveals the internal architecture of the artist's body. Mounted at the height of Rickard's mouth when seated, the peephole plays back the passage taken by the adjacent pill as it traveled from mouth to colon, forming an internal self-portrait. Drawing our attention to what is inside and out points ultimately to our daily condition, our existence at the blurred threshold between the two.
DRAWING IN SPACE – HORIZON
Jeongmoon Choi
Drawing In Space – Horizon(2017), Jeongmoon Choi installation view Moving Space © Peter Eichler
Choi's installation, Drawing in Space- Horizon(2017), is part of a series that responds to the main themes of her practice: housing, nature, natural disasters, and the position of the human race in between the forces of nature. More specifically, the installation refers extensively to the subject of tsunamis and their challenges in Asia.
"Drawing in space" constantly challenges our perception to enable us to supplement the concretely visible with our imagination. Disorientation is the initial response when faced with Choi's UV light room drawn with threads. Boundaries and boundless, we quickly find access to one of the many possible perspectives, enabling us to engage in ever-new ways. Her installation keeps the room in a continuous change of reference between the inside and outside, thus showing the paradoxical dual nature of space perception.Commissioned by Kunstkraftwerk for Moving Space.
Drawing In Space – Horizon(2017), Jeongmoon Choi installation view Moving Space © Azul Serra
STERNENSPIEGELRAUM (STAR-UNIVERSCOPE)
Holger Schulze
Sternenspiegelraum(2017), Holger Schulze, installation view Moving Space © Azul Serra
Through a unique arrangement of mirrors, Star-universcope evokes 'the illusion of an infinite space' – a universe. The seemingly endless space mimics a real room throughout the visitor's movements and continuously changing points of view. It becomes impossible to discern the real objects and space from those created by the reflections; not even knowing or understanding the mechanism can lessen the impact or the illusion of infinite space. The experience is enhanced and intensified through sound and music. Star-universcope is based on physical, mathematical, and geometric ideas and constructions discovered and developed by Holger Schulze himself.Video by Roman Heller, Aribert Laschke, Devon Miles, Max Vincent Schulze
Sound by Gundolf NandicoCommissioned by Kunstkraftwerk for Moving Space.
PUBLIC PROJECTS
APERTΩARTS have produced and curated exhibitions in Germany, the UK, the USA, and Saudi Arabia, featuring the work of over 250 international artists, from emerging to established artists, including great masters, historical artifacts, as well as installations created as part of scientific collaborations.Over 100.000 people visited the interdisciplinary projects conceived with scientists and artists exploring themes such as the human perception of space (MOVING SPACE, 2017), how physical reality is different from what we perceive (ILLUSION – Reality is Not What it Seems, Science Gallery International, Trinity College, Dublin, 2016), and the psychological and emotional impact of receiving a heart transplant (HYBRID BODIES, 2016).In the UK, CONSCIENTIA: Latin American Consciousness (2014) was the runner-up at the Latin American Awards for the best exhibition of the year; LEIPZIG UNFOLDING (2015), the first survey of Leipzig contemporary art in London, was regarded as a must-see exhibition by the FAD Magazine.EVENT HORIZON (2019), a solo presentation of the Bulgarian artist Stoyan Dechev, took part in the official program of Plovdiv – European Capital of Culture 2019 at the annual Week of Contemporary Art in Plovdiv, one of the most significant cultural events in Bulgaria. In 2021, the sculpture was exhibited at Frieze Sculpture, in Regent's Park, London.Valley (2017) by Polish artist Karolina Hallatek, an installation commissioned for the exhibition Moving Space (2017), took part in Alone Together, Artefact at the STUK - House for Dance, Image & Sound, Leuven, Belgium, and Terminal (2016) had been selected for Sculptures in the City 2020 (canceled due to COVID-19). Beacon (2021), her monumental sculpture commissioned by the Royal Commission of the City of Riyadh for its public art program, was on display at the King Abdul Aziz Historical Centre (Noor Riyadh Festival) and was awarded a Guinness Record.
CURATION
At Home
Andrea Garcia Vasquez (US)
Anaïs Goupy (FR)
Trevor Kiernander (CA)
Linda Marwan (DE)
Hans Richter (DE)
Kristina Rothe (DE)Floating Presence
Concept by Lavínia D. Freitas
Artistic Selection H. Backerra
Anna Dahinten (CH)
Amir Fattal (IL)
Cathy Jardon (FR)
Katharina Bévand (DE)
Lars Theuerkauff (DE)
Shahed Naji (LB)
Stephan Bolz (DE)In the Planet Where We Met
Ingrid Pumayalla (PE)
Mazen Khaddaj (LB)Event Horizon
Stoyan Dechev (BG)Moving Space
Jeongmoon Choi (KR)
Ivana Franke (HR)
Karolina Halatek (PL)
Wisp Kollektiv – Felix Deufel, Kenneth Kirschner, Paul Schengber, Markus Schuricht (DE)
LAB212 – Cyril Diagne, Béatrice Lartigue (FR)
Guillaume Lachapelle (CA)
David Rickard (NZ)
Holger Schulze (DE)
Ief Spincemaille (BE)
Ben Tyers (UK)Hybrid Bodies
Andrew Carney (UK)
Ingrid Bachman (CA)
Catherine Richards (CA)
Alexa Wright (UK)
Linnea Gwiazda (CA)
Maxine Segalowitz (CA)Ibiziology
Olivier Mourão (BR)
Illusion - Nothing is as it seems
Science Gallery International, Trinity College, Dublin
Curated by Dr. Richard Wisemann
Germany localisation by Lavínia D. Freitas
Moritz Wehrmann (DE)
Marcelina Wellmer (PL)
Madi Boyd (UK)
Rebecca Cummins (US)
Gregory Barsamian (US)
Joanna Hopkins (IE)
Jonty Hurwitz (ZA)
Shelley James (UK)
Matt Kenyon (US)
Adrien M / Claire B (FR)
Helen MacMahon (IE)
Anthony Murphy (IE)
Fiona Newell, Stefan Hutzler & Robert Murtagh (IE)
Nye Parry (UK)
Jeff Scanlan (US)
Karolina Sobecka (PL)
Pierrick Sorin (FR)
Chris Sugrue (US)
Jennifer Townley (NL)
Roseline de Thelin (FR)
Ian Willcock (UK)Leipzig Unfolding
Hans Aichinger (DE)
Christiane Baumgartner (DE)
Tilo Baumgärtel (DE)
Famed (DE)
Claus Georg Stabe (DE)
Henriette Grahnert (DE)
Martin Groß (DE)
Nadin Maria Rüfenacht (CH)
Rosa Loy (DE)
Steffen Junghans (DE)
Falk Messerschmidt (DE)
Christoph Ruckhäberle (DE)
Annette Schröter (DE)
Thomas Sommer (DE)
Corinne von Lebusa (DE)
Conscientia
Laura Belém (BR)
Pato Bosich (CL)
Hen Coleman (VE)
Carlos Cruz- Diez (VE)
Pablo Ferreti (BR)
Beatriz Milhazes (BR)
Maria de Lima (BR)
Jakeline Londono (CO)
Cipriano Martinez (VE)
Santiago Montoya (CO)
Rivane Neuenschwander (BR)
Ricardo Rendón (MX)
Raquel Schembri (BR)
Emilia Sunyer (VE)
Yara Tupynambá (BR)
Sylvia Morgado (BR)New British with Patch London
João Galrão (PT)
Alec Kronacker (BE)
Nadine Mahoney (UK)
Ernesto Cavanos (SP)
Sunju Lee (KR)
Elizabeth McDonald (UK)
Henny Acloque (UK)
Eleanor Moreton (UK)
Hannah Knox (UK)
Mark Beattie (UK)
Michele Fletcher (UK)
Holly Stevenson (UK)
Mat Chivers (UK)
Ralph Hunter Menzies (UK)
HaYoung Kim (KR)
Dai Toyofuku (US)
Evy Jokhova (CH)
Ann-Marie James (UK)
Dexter Dymoke (UK)
Kim Rugg (KR)
Sinta Werner (DE)
Andrew Hancock (UK)
Virgílio Ferreira (PT)
DIRECTION OR PRODUCTION
Beacon- Noor Riyadh 2021
Karolina Halatek (PL)Complex States: Art In The Years Of BREXIT
Curated by Vassiliki Tzanakou & Catherine Harrington
Jeremy Deller (UK)Ernst Stadelmann (DE)Blick Zurück Nach Vorn
Curated by Dr Constanze Fritzsch
Else Twin Gabriel (DE)
Anna Schimkat (DE)
Nicole Hewitt (HR)
Rainer Görß (DE)
Kristina Leko (HR)
Milica Tomić (RS)Patch London
Adam Ball (UK)
Adam Neate (UK)
Adeline de Monseignat (DK)
Alan Rankle (UK)
Alex Knell (UK)
Alexander Massouras (UK)
Amy Stephens (UK)
Andrew Hancock (UK)
Ann-Marie James (UK)
Antony Micaleff (UK)
Astrid Kruse Jensen (DK)
Blue Curry (UK)
Bouke de Vries (NL)
Carlos Noronha Feio (PT)
Cathy de Monchaux (UK)
Chris Levine (UK)
Connor Brothers (UK)
Damien Hirst (UK)
Derrick Santini (UK)
Dexter Dymoke (UK)
Djordje Ozbolt (RS)
Dolly Thompsett (UK)
Emma Bennett (UK)
Frédérique Morrel (FR)
Gilbert & George (UK)
Gordon Cheung (UK)
Graham Dean (UK)
Gunther Herbst (ZA)
Guy Rusha (UK)
Hew Locke (UK)
Jamie Shovlin (UK)
Jan Maarten Voskuil (NL)
Jeff Koons (US)
Jeremy Deller (UK)
Jodie Carey (UK)
Kate MccGwire (UK)
Kevin Francis Gray (UK)
Kris Emmerson (UK)
Liane Lang (DE)
Lluís Barba (ES)
Lothar Götz (DE)
Mark Titchner (UK)
Martin Creed (UK)
Nancy Fouts (US)
Nicolas Ruston (UK)
Nicola Samori (IT)
Paul Benney (UK)
Rankin (UK)
Rebecca Stevenson (IT)
Rui Matsunaga (JP)
Simon English (UK)
Tom Gallant (UK)
Tracey Emin (UK)
Whitney McVeigh (UK)
Yinka Shonibare MBE (UK)
Yunkyung Jeong (KR)
2Q13
Curated by Lydia Cowperwaith and Marcelle Joseph
Samira Alikhanzadeh
Nazgol Ansarinia
Phyllida Barlow (UK)
Tina Barney
Becky Beasley
Louise Bourgeois (FR)
Ruth Claxton
Prunella Clough
Marian Coutts
Laura Ford (UK)
Geraldine Gliubislavich
Nan Goldin (US)
Katy Grannan
Shirazeh Houshiary
Chantal Joffe
Josephine King (UK)
Katy Moran
Catherine Opie
Cornelia Parker (UK)
Anna Parkina
Paula Rego (PT)
Maaike Schoorel
Kiki Smith (US)
Elif Uras (TR)
Kara Walker (US)
Gillian Wearing (UK)
Rachel Whiteread (UK)
Francesca Woodman (US)
Vicky Wright (UK)
Afsoon (IR)
Güler Ates (TR)
Clarisse d'Arcimoles (FR)
Alexandra Bircken (DE)
Annabel Emson
Sally Fawkes (UK)
Jess Flood Paddock
Marenka Gabeler
Margarita Gluzberg (RU)
Rachel Goodyear (UK)
Vanessa Jackson (UK)
Karen Knorr (DE)
Julia Kunin (CN)
Kiki Lamers (NL)
Rania Matar (LB)
Michelle McKeown
Josephine Meckseper (DE)
Annie Morris (UK)
Jemimah Patterson (UK)
Alex Prager (US)
Eva Räder
Penelope Slinger (UK)
Laurie Simmons (US)
Shellburne Thurber
Mary Webb
Rose Wylie (UK)Infero
Curated by Aretha Campbell
Camilla Emson
Corinne Felgate
Dale Marshall
Laurence Owen
Lucia Vera
Lucy Farley
Manuel Larralde
Tahnee Lonsdale
Vanessa JacksonSublimate Sublime Subliminal Curated by Alan Rankle and Kirsten Reynolds
Petri Ala-Maunus (FI)
Russell Baker (UK)
Helen Brough (UK)
Jackie Clark (AU)
Stephanie Donsø (DK)
Rune Elgaard Mortensen (DK)
Per Fronth (NO)
Bent Holstein (DK)
Andrew & Eden Kötting (UK)
Astrid Kruse Jensen (DK)
Oska Lappin (US)
Andrea Mariconti (IT)
Anders Moseholm (DK)
Alan Rankle (UK)
Kirsten Reynolds (US)
Nicola Samori (IT)
Enrico Savi (IT)
Eva Schlegel (AT)
Samppa Törmälehto (FI)
LONG & RYLE ARTISTS
Curated by LONG & RYLE
Nick Archer
Sophie Benson
Su Blackwell
Simon Casson
Daniel Chatto
Jocelyn Clarke
Paul Coldwell
Mark Entwisle
Ramiro Fernandez Saus
Javier Garces
Tricia Gillman
Maro Gorky
Derrick Guild
Julia Hamilton
Manami Hayasaki
Henrietta Hoyer Millar
Daisaku Kawada
Anastasia Lewis
Natalie Meyjes
Melanie Miller
John Monks
Katharine Morling
Helen Napper
Fran Richardson
Geoff Routh
Brian SayersFlowers: Small is Beautiful at Art at Lloyds
Curated by Flowers Gallery
Lucy Jones
Patrick Hughes
Tom Phillips
Jiro Osuga
Michael Kidner
Nicola Hicks
Eduardo Paolozzi
Carol Robertson
Terry Frost
Peter Hawson
Cedric Christie
Glenys Barton
Albert Irvin
Glen Baxter
Tai-Shan Schierenberg
Freya Payne
Tim Lewis
Renny Tait
Kisoo Kwon
Tom Hammick
Renny Tait
Henry Kondracki
David Hepher
John Keane
John Kirby
John Keane
Jeanr Edden
Tony Lawrence
Richard Smith
George Blacklock
Amanda Faulkner
Glenys Barton
John Keane
Rachel Heller
Vicky HawkinsIconoclasts
Curated by Katie Heller - Patch London
Wendy Bevan
Jodie Carey
Gordon Cheung
Oliver Clegg
Nancy Fouts
Henry Hudson
Alice Instone
Alexander James
Anne-Marie James
Anthony Noel Kelly
Alexander Massouras
Laurence Owen
Alan Rankle
Martin Smith
Rebecca Stevenson
Bouke de Vries
Simon Ward
Masaki Yada
Head to Linkedin for a complete list of artists and projects.
Get in touch for a list of available works.
PRIVATE PROJECTS
APERTΩARTS works with private, corporate, and institutional clients to shape environments that stimulate and support creativity; to build collections or to promote a deeper understanding of the contemporary art market.Drawing on expertise, experience and connections in the arts, we locate, negotiate and purchase or commission art on behalf of clients, meeting their requirements of taste, image and budget.Our keen interest in new and emerging artists have enabled us to promote artists and their works in the early stages of their career while acquiring quality pieces for clients that consistently increase in value.Our offers range from researching and identifying potential acquisitions, private viewings and studio visits to framing, shipping, installation and advising on insurance options. Collection management is also part of our portfolio.
About
APERTO (Latin: to expose, 'lay bare') ARTS is a tribute to the curators Achille Bonito Oliva and Harald Zeeman of the APERTO program integrating works by young artists into the Venice Biennale.
---
With the ideal of engaging wider audiences with Art, independent curator Lavínia Diniz Freitas founded the international curatorial platform APERTΩARTS. Conceiving and producing inventive, boundary-breaking, narrative-driven exhibition experiences, our projects showcase classical and contemporary art employing rich storytelling, new media and technology.Often working at the creative crossroads of art and sciences, ApertΩArts invites audiences on unique journeys offering spatial and sensory conditions for embodied experiences that invigorate public discourse and inspire social change.With an innovative approach to public engagement, our work has attracted tens of thousands of people and garnered attention from an array of different media outlets internationally, such as focus feature at ZDF Heute Journal, ARTE, Forbes, FRIEZE, ARTNET, MDR Kultur TV and Radio, Süddeutsche Zeitung, and designboom.Most recently, the exhibitions on intercultural exchange, In the Planet Where We Met (Peru and Lebanon) and Forged Multiculturalism (artists from the African diaspora in Brazil and from the former African Gold Coast) were finalists for Bienalsur 2021.In the public realm, Beacon, the monumental sculpture by Karolina Halatek, commissioned by the Royal Commission of the City of Riyadh for its public art programme, was on display at the King Abdul Aziz Historical Centre (Noor Riyadh Festival) was awarded a Guinness Record; Event Horizon by Stoyan Dechev stood in Regent's Park, London (Frieze Sculpture 2021).Currently, Diniz Freitas is exploring the shared history of China and Brazil with a visual and sound artist from Macau in a solo exhibition in New York.
Impressum
Angaben gemäß § 5 TMGLavínia Diniz Freitas
Apertoarts
Leipzig, GermanyE-Mail:
info @ apertoarts . comVerbraucherstreitbeilegung/Universalschlichtungsstelle
Wir sind nicht bereit oder verpflichtet, an Streitbeilegungsverfahren vor einer Verbraucherschlichtungsstelle teilzunehmen.Haftung für Inhalte
Als Diensteanbieter sind wir gemäß § 7 Abs.1 TMG für eigene Inhalte auf diesen Seiten nach den
allgemeinen Gesetzen verantwortlich. Nach §§ 8 bis 10 TMG sind wir als Diensteanbieter jedoch nicht
verpflichtet, übermittelte oder gespeicherte fremde Informationen zu überwachen oder nach Umständen zu
forschen, die auf eine rechtswidrige Tätigkeit hinweisen.
Verpflichtungen zur Entfernung oder Sperrung der Nutzung von Informationen nach den allgemeinen
Gesetzen bleiben hiervon unberührt. Eine diesbezügliche Haftung ist jedoch erst ab dem Zeitpunkt der
Kenntnis einer konkreten Rechtsverletzung möglich. Bei Bekanntwerden von entsprechenden
Rechtsverletzungen werden wir diese Inhalte umgehend entfernen.Haftung für Links
Unser Angebot enthält Links zu externen Websites Dritter, auf deren Inhalte wir keinen Einfluss haben.
Deshalb können wir für diese fremden Inhalte auch keine Gewähr übernehmen. Für die Inhalte der
verlinkten Seiten ist stets der jeweilige Anbieter oder Betreiber der Seiten verantwortlich. Die verlinkten
Seiten wurden zum Zeitpunkt der Verlinkung auf mögliche Rechtsverstöße überprüft. Rechtswidrige Inhalte
waren zum Zeitpunkt der Verlinkung nicht erkennbar.
Eine permanente inhaltliche Kontrolle der verlinkten Seiten ist jedoch ohne konkrete Anhaltspunkte einer
Rechtsverletzung nicht zumutbar. Bei Bekanntwerden von Rechtsverletzungen werden wir derartige Links
umgehend entfernen.Urheberrecht
Die durch die Seitenbetreiber erstellten Inhalte und Werke auf diesen Seiten unterliegen dem deutschen
Urheberrecht. Die Vervielfältigung, Bearbeitung, Verbreitung und jede Art der Verwertung außerhalb der
Grenzen des Urheberrechtes bedürfen der schriftlichen Zustimmung des jeweiligen Autors bzw. Erstellers.
Downloads und Kopien dieser Seite sind nur für den privaten, nicht kommerziellen Gebrauch gestattet.
Soweit die Inhalte auf dieser Seite nicht vom Betreiber erstellt wurden, werden die Urheberrechte Dritter
beachtet. Insbesondere werden Inhalte Dritter als solche gekennzeichnet. Sollten Sie trotzdem auf eine
Urheberrechtsverletzung aufmerksam werden, bitten wir um einen entsprechenden Hinweis. Bei
Bekanntwerden von Rechtsverletzungen werden wir derartige Inhalte umgehend entfernen.Quelle: